Dow Swings Decried by Mnuchin Have Plenty of Precedent in Past
(Bloomberg) -- Markets overrun with high-frequency traders are partly to blame for all the 500-point days in the Dow Jones Industrial Average lately, says Treasury Secretary Steven Mnuchin.
Also to blame: math. With the gauge near 23,000, it obviously takes a smaller percentage than it used to to travel that distance.
Here's a chart of all the years when daily changes in the Dow have been wider than they are now -- in percentage terms.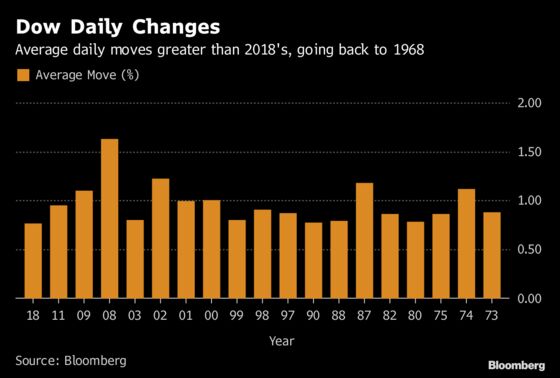 "Over a longer period of time the market reflects various different economic components but a normal trading day now is a 500-point range. A lot of that has to do with market structure, and that's something we're going to take a look at," Mnuchin said in a roundtable interview Tuesday at Bloomberg's Washington office. "Part of this is a combination of the market presence of high-frequency traders combined with the Volcker Rule."
High-frequency trading goes back decades but it didn't become a predominant force in U.S. stock markets until the mid-2000s, when the Securities and Exchange Commission passed rules governing how orders are handled across exchanges. The Volcker Rule was passed in 2010.