Doug Ramsey's Best Case for Stocks and Other Views of the Future
(Bloomberg) -- Down in three sessions, up in two, with an average swing of 5%, the S&P 500 was beyond the scope of reason this week. Investors in search of a more tangible road map to the future should step back, and consider markets in terms of months or years. Models purporting to give a longer-term projection were surfacing all around Wall Street on Friday. Here are a few.
Leuthold Group, the Minneapolis investment house, compared the time line of past market sell-offs with past slumps in the economy. In 93 years of data, it found that the quickest it's ever been from the start of a recession to the bottom of a bear market was two months, in 1957. That could almost pass for good news, particularly if the economy has already begun to contract. On the other hand, over 11 recessions, stocks didn't start to recover until 1 1/2 years after the economy started contracting, on average.
The S&P 500 just took the fastest ever plunge from a record into a bear market and is now 30% below the Feb. 19 high. Bulls have been tempted to declare that valuations already account for the likely economic pain and what it will do to corporate earnings. Even if that's the case, says Doug Ramsey, chief investment officer at Leuthold, it doesn't mean the sell-off is over.
"It's popular to say that the market 'sells the rumor, and buys the fact,' but we think there will be a phase in which the stock market and economic numbers decline together," Ramsey wrote in a note to clients. "We believe it is too early to expect the market to form a major bear market low."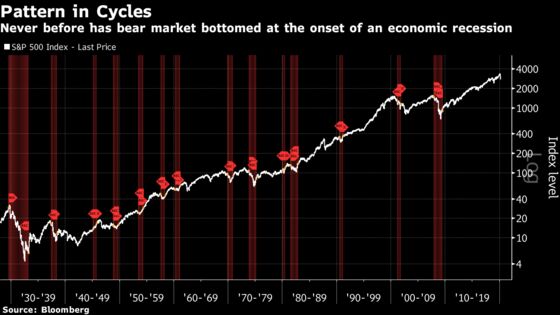 A Barclays Capital Inc. analysis shows a 30% drawdown in stocks is equal to a 1% drop in U.S. gross domestic product growth and a subsequent decline of 10% in corporate earnings. Goldman Sachs economists led by Jan Hatzius and Alec Phillips estimated Friday that second-quarter GDP will contract 24% before a second half recovery, delivering a 3.8% reduction in 2020 growth.
That dire scenario -- where the economic contraction extended to the fourth quarter with a 4% decline -- could lead to a 50% sell-off from the peak in the S&P 500, Maneesh Deshpande, head of equity derivatives strategy at Barclays, wrote in a note.
Dubravko Lakos-Bujas, a strategist at JPMorgan Chase & Co., wrote that if policy makers fail to pass a comprehensive fiscal package promptly, selling will accelerate, taking out the market's heavyweight momentum stocks. Marking down the S&P's momentum and growth leaders to December 2018 lows -- when they saw their last big beating -- implies the index drops to 1,940, 43% from the February record.
"We're all expecting numbers to decline significantly," Marvin Loh, senior global macro strategist at State Street Global Markets, said by phone. "If it's not overly surprising, I think that some of that is priced into the market already. Headlines are going to drive a lot of the emotion."
A rapid reaction from policy makers could help shepherd a bottoming process for equities, according to Gina Martin Adams at Bloomberg Intelligence. Hints of this were evident by extremely low breadth, for instance. At its worst, only 1% of stocks in the S&P were trading above their average price over the past 50 days, a proportion recorded only four times in the past 25 years, she said.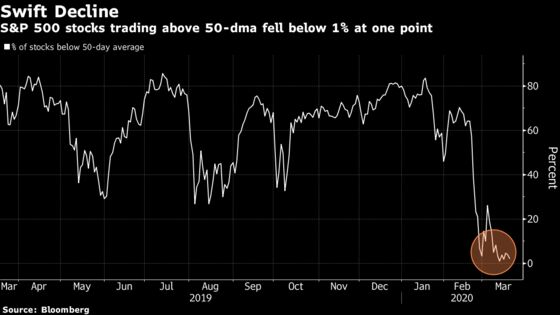 Financial conditions have tightened to a degree last witnessed in 2008 -- however, excluding equity markets, they've only dropped about half as far as the broad indicator, said Martin Adams. To her, it means equities "may have overshot," she wrote in a March 19 note.
To trading pioneer Blair Hull, the current situation is an artificial anomaly, not a fundamental one. "This isn't a normal recession -- the outcome of this is pretty predictable" said Hull, who is chairman of Hull Tactical Funds. "The fear and panic has reached a peak. I've seen this happen before, I saw it in '87, I saw it in 2002. This is no different from those points in time."