DoorDash Warns Delivery Fee Caps Will Weigh on Results
(Bloomberg) -- DoorDash Inc. reported fourth-quarter revenue that beat analysts' estimates, reflecting a surge in Covid-19 cases and restrictions that fueled demand for food delivery at the end of last year. But the company said price controls intended to limit the fees it can charge restaurants will weigh on results in the current period. The shares were down 4.6% Friday morning in New York.
While DoorDash helped many restaurants stay afloat as pandemic lockdowns forced them into a takeout-only model, the fees that it charges, which can be as much as 30%, have been limited by jurisdictions including New York and Seattle. DoorDash was operating with such price controls in 73 jurisdictions at the end of last year, up from 32 at the end of the third quarter, the company said in a letter to shareholders.
In the fourth quarter, DoorDash said it estimated price controls had a net negative impact of $36 million on revenue, gross profit and adjusted earnings before interest, tax, depreciation and amortization. The company expects the impact to "almost double" in the first quarter. DoorDash has begun implementing incremental consumer fees in many markets with price controls to help offset some of the pressure.
Chief Executive Officer Tony Xu said he believes the caps are temporary, and "bad policy," in an interview on Bloomberg TV Friday.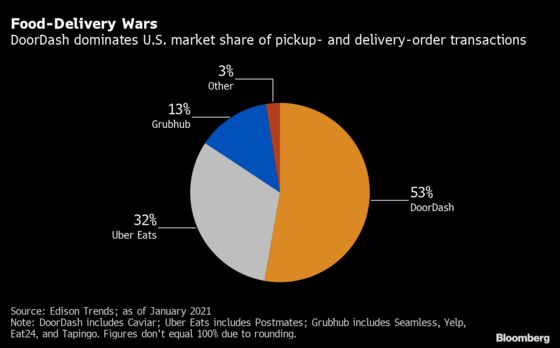 San Francisco-based DoorDash has benefited from the coronavirus pandemic as lockdowns have shuttered restaurants and left more people ordering their meals to be delivered. A resurgence of cases and tightened restrictions at the end of last year only continued to feed the boom in demand. DoorDash expanded its market share to surpass 50% of the U.S. last month, up from 35% in January 2020, according to data from Edison Trends.
Sales increased 225% in the three months ended Dec. 31 from a year earlier, totaling $970 million, the company said in its first financial report since becoming a public company in December. Analysts had projected $926.7 million according to data compiled by Bloomberg. Customers placed 273 million orders in the period, a 233% increase, with the gross value of those orders at $8.2 billion. DoorDash reported a net loss of $312 million, more than doubling from $134 million a year earlier as it spent aggressively on wooing new customers, advertising and research and development. The net loss per share was $2.67.
But as restaurants begin to reopen in some markets and more people are getting vaccinated, DoorDash could face headwinds to its business.
"We hope markets will begin to open up soon," the company said. "As that happens, we expect declines in consumer engagement and the average order values, though the precise amount remains unclear."
Full-year earnings before interest, tax, depreciation and amortization are expected to be $0 to $200 million, reflecting uncertainty in vaccinations and the reopening pace, Chief Financial Officer Prabir Adarkar said on a call with analysts.
DoorDash is also facing rising costs from the implementation of Proposition 22 in California. The new law allows DoorDash to continue to classify its drivers as contract workers rather than full-time employees, but still requires the company to pay some additional benefits and guarantee driver earnings.
DoorDash ended last year with a high-profile initial public offering, raising $3.4 billion. Its shares have gained 64% since then through the end of trading Thursday, valuing the company at $53 billion. The shares were trading at $159.98 at 11:09 a.m. in New York.
The big question for investors is whether desire for food delivery will continue in a post-pandemic world, said Ronald Josey, an analyst at JMP Securities. Josey said he anticipates a "big slowdown" in growth in 2021, but is optimistic about long-term prospects.
"We've been ordering out now for the better part of a year. I don't think that goes away," Josey said.
Adarkar agreed. In an interview, he said consumer behavior is "sticky. It's much harder for people to shake these new habits." The company continues to see growth in markets such as Texas and Florida, which have fewer restrictions on fees, he said.
DoorDash may have a better revenue stream than some of its competitors as Covid-19 restrictions fade in the U.S., due to 5 million subscribers to its DashPass delivery subscription service, said Bloomberg Intelligence analyst Matthew Martino. Analysts at Truist Financial called the DashPass a "critical piece of differentiation" from other services.
Uber Technologies Inc., whose Uber Eats is the second-biggest meal delivery service in the U.S., has been heavily investing in its delivery segment. The company recently acquired alcohol-focused Drizly, Inc. for $1.1 billion and grocery-focused Cornershop. That came on top of the June 2020 acquisition of food delivery company Postmates Inc. for $2.6 billion. In October, DoorDash teamed up with Sam's Club to offer same-day prescription delivery.
DoorDash reported adjusted earnings before interest, taxes, depreciation and amortization of $94 million.