Donald Trump Jr. Questioned in D.C. Probe of Inaugural Payments
(Bloomberg) -- Donald Trump Jr. was questioned under oath as part of a government lawsuit alleging his father's inaugural committee illegally overpaid for events at a Washington D.C. hotel owned by the Trump family business.
Donald Trump Jr. sat for a deposition on Feb. 11, the District of Columbia attorney general's office said in a court filing on Tuesday. According to the filing, the deposition "raised further questions" about one of the payments under scrutiny in the lawsuit.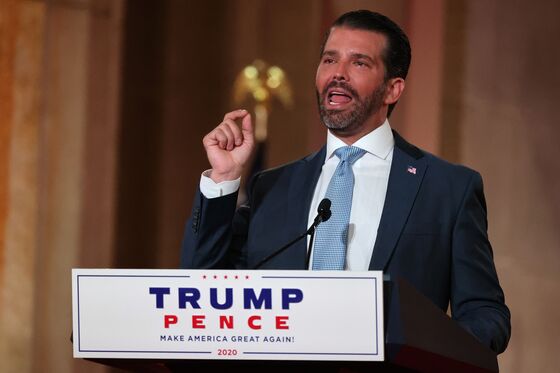 The district's attorney general, Karl Racine, sued in January 2020 claiming the committee had failed to consider less-expensive alternatives before paying more than $1 million to the Trump hotel from Jan. 17 to Jan. 20, 2017 -- the day of Donald Trump's presidential inauguration.
An attorney for Donald Trump Jr. didn't immediately respond to a request for comment.
The Attorney General's Office has deposed 10 witnesses in the case, including several other family members and associates of Trump. In December, lawyers for Racine interviewed Ivanka Trump. Also deposed was inauguration committee chairman Thomas Barrack Jr.