Don't Mistake Burberry's Instabuzz for a Turnaround
(Bloomberg Opinion) -- However much Burberry Group Plc flogs its flair with Instabuzz and social selling, investors are going to have to wait for it.
After new designer Riccardo Tisci showed his first collection in September, the company's shares fell – it wasn't clear if the change in creative direction would be enough to turn around the British luxury brand. The company seems to have managed to reassure shareholders on Thursday in its first-half report as it said the response to its new designer had been "exceptional" – the shares rose as much as 2.4 percent. 
There are certainly signs of progress. Key products such as T-shirts and sweatshirts, that debuted through social selling channels on Instagram and WeChat, sold out within hours in China, where the brand is back in vogue with millenials. Recent limited-edition "drops" attracted double the number of young and new customers than the capsule collection from Burberry's fashion show in February.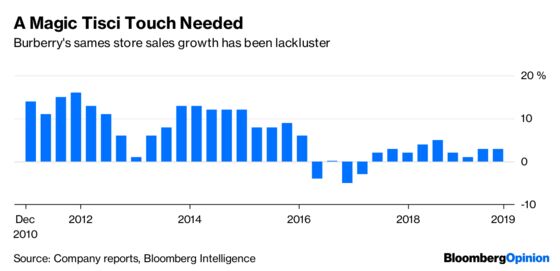 With Instagram influencers playing such a big role in determining what's hot and what's not, this kind of brand heat is invaluable.
But translating this buzz into sustained sales growth is another story.
Burberry has made a good start. Same-store sales rose 3 percent, while wholesale revenue excluding beauty was up 10 percent, partly due to department stores in Europe and the U.S. significantly increasing their orders, as well as from sales in Asian duty-free shops.
But there is much more work to do, particularly in the all-important category of handbags.
Tisci's designs won't reach stores until February, and even then, the impact might not be felt immediately. Gucci's new vision under creative director Alessandro Michele took some time to build, before exploding into phenomenal sales growth. Though Burberry investors will be hoping for the same effect, they'll need to have some patience – and remember that there's no guarantee Tisci's collection will resonate in the same way with consumers.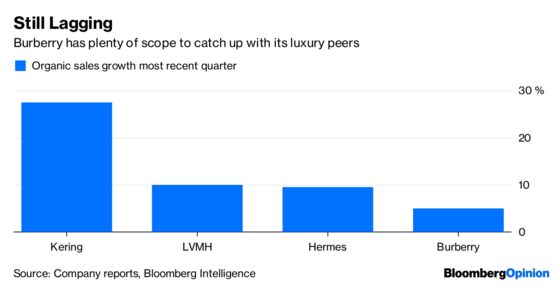 Burberry Chief Executive Officer Marco Gobbetti is keeping a lid on expectations – he's sticking to his previous guidance for sales growth and the operating margin to remain broadly stable this year and next. That caution is wise, given the potential headwinds.
Firstly, Burberry is rationalizing its distribution to third-party retailers in the U.S., and that will hurt wholesale revenue over the next 18 months.
There's not much sign of that so far. Burberry said sales to Chinese consumers rose by a low single digit percentage in both the first and second quarters. It's worth noting that the pattern of consumption has changed, with spending switching from Europe, particularly the U.K., to duty-free outlets in Asia. 
But any softening in demand from China could push the broader luxury market, as well as Burberry's turnaround, off course.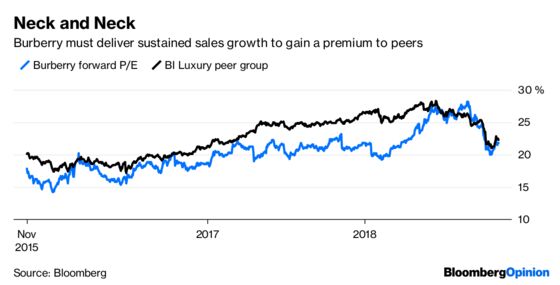 Despite Thursday's gain, Burberry shares are still down more than 20 percent from their 2018 high at the end of August. They trade on a forward p/e of about 22 times, in line with that of a Bloomberg Intelligence luxury index.
For Burberry to achieve a premium to rivals, it must show Tisci's presence can generate higher sales growth, not just fashion superlatives. That's not going to happen quickly. 
This column does not necessarily reflect the opinion of the editorial board or Bloomberg LP and its owners.
Andrea Felsted is a Bloomberg Opinion columnist covering the consumer and retail industries. She previously worked at the Financial Times.