Dometic Prepares to Unveil Cost Cuts, Move Beyond RV Slump
(Bloomberg) -- Dometic AB's chief executive officer is readying a new strategic direction and will unveil a cost-savings package for the Swedish maker of cooling and ventilation products for vehicles and boats.
With the measures, which include shifting manufacturing and seeking out new customers groups, Juan Vargues is trying to get investors to look beyond a recent slump in the market for recreational vehicles that has helped send Dometic's shares down some 30 percent so far this year.
The CEO, who took the helm of the company at the end of last year after previously heading lockmaker Assa Abloy AB's Entrance Systems division, has already laid the groundwork for a new strategy. He briefed 155 managers on the key points at a meeting in Berlin a month ago, and will include details about structural measures in the fourth-quarter report in February.
"We need to work with internal efficiency to be able to invest for the future," Vargues said in an interview in Stockholm.
One part of the plan is to reduce the number of factories where Dometic makes everything from portable coolboxes to toilets and awnings for recreational vehicles, or RVs. Those plans have become even more urgent for Dometic, which has 28 plants worldwide, after the U.S. introduction of tariffs on a range of goods. Dometic now plans to move some production from China to a new factory in Mexico as soon as March.
To raise efficiency and cut costs, "we will look at everything," Vargues said.
While investors have sold the stock, 7 of 9 analysts tracked by Bloomberg are still optimistic, and the spread between the share price and the average target price has widened to the highest levels since the company listed in late 2015.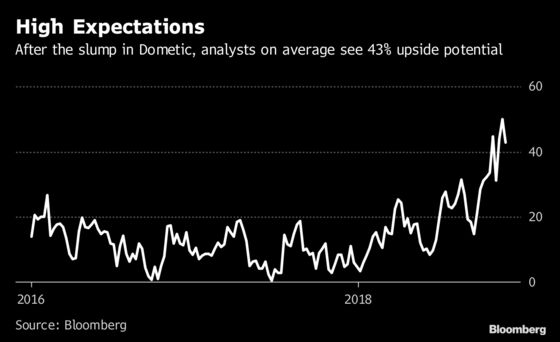 Here are some of the key components of Vargues' strategy:
Outsourcing of production to become more flexible and developing products in closer partnership with suppliers.
Reducing the number of suppliers, which currently stands at 3,000, to get better terms and prices.
Cutting the number of product items (SKUs) from 40,000 by 30 percent by the end of 2019; Vargues said the company may then potentially lower that by an additional 25 percent.
Ensuring new products have a 20 percent lower cost than the ones they replace.
Making acquisitions to broaden customer segments in areas such as commercial ships and commercial vehicles.
CEO says he expects to make "transformational" deals every 3-5 years, such as the 2017 SeaStar purchase and "a couple" of smaller purchases each year in between.
One key aspect of the new direction is to reduce dependence on makers of recreational vehicles, who account for 40 percent of its sales.
"We need to make sure to reduce the exposure further ahead of the next downturn," Vargues said. "That's what I see as my job."
U.S. RV makers have been hit with a slump in demand, with shipments falling 29 percent in September from a year earlier. While Vargues says October "felt better," he is reluctant to rely on customers who claim the drop is merely due to inventory adjustments.
"My customers are optimistic, but my job is to protect the company," Vargues said. "Looking at the car industry, or the housing market, there's reason to be cautious."