Dollar Set for Pullback After Mid-Term Vote, JPMorgan Asset Says
(Bloomberg) -- The dollar's world-beating rally is about to run out of steam, according to JPMorgan Asset Management.
The greenback's gains will probably peter out after this week's U.S. mid-term elections, given the likelihood a divided Congress will stymie further reform, says Jasslyn Yeo, global market strategist at the money manager in Singapore. The dollar's outlook is also worsening as a build-up in long positions suggests a reversal may be overdue, she said.
"It's very crowded at the moment," she said of the bullish dollar bets. "I'm actually expecting the dollar to pull back soon."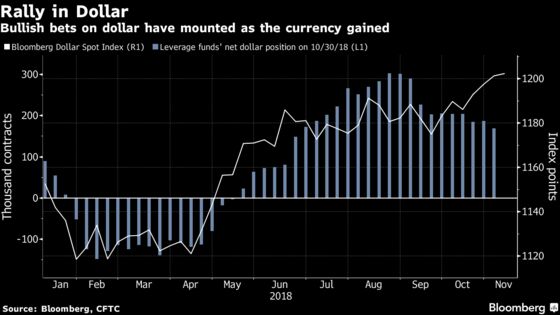 The U.S. currency has jumped about 8 percent since mid-April as the Federal Reserve pushed up interest rates, and the world's biggest economy outperformed its peers. The dollar has also benefited from rising Treasury yields, while its status as a haven has seen it gain from the outbreak of the U.S.-China trade war.
Going forward, "U.S. Treasury yields aren't likely to rise as fast, and the dollar will not increase as fast as well," Yeo said.
The U.S. currency may start strengthening again some time next year as the Fed continues to ratchet up borrowing costs, she said.