Dollar Libor Slumps Most in a Decade as Market Plays Catch Up
(Bloomberg) -- One of the world's most important borrowing benchmarks staged its biggest single-day decline in a decade on Thursday.
The three-month London interbank offered rate for dollars sank 4.063 basis points to 2.697 percent, the largest one-day slide since May 2009. The move may reflect a benchmark that's making up ground following a repricing of short-end Treasuries and associated instruments in the wake of the Federal Reserve's dovish pivot in recent weeks.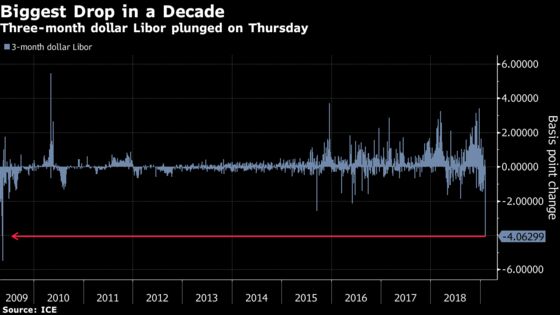 The Libor move "largely represents the market catching up to cash rates, though the speed and severity of the adjustment were faster than presumed," Jon Hill, a strategist at BMO Capital Markets, wrote in a note to clients.
After reaching a 10-year high of 2.82375 percent on Dec. 20, three-month dollar Libor has retreated by almost 13 basis points as the Fed has signaled patience in its efforts to normalize policy.
"In essence, it's not too much of a stretch to claim that not only are short-term borrowing costs not increasing, they've declined by half a hike since the December FOMC meeting," Hill wrote.
Another factor likely contributing to the reference rate's decline is the surge of inflows into prime money-market funds, which have seen assets climb by about $36 billion since Dec. 20. Because they primarily invest in commercial paper, certificates of deposit and time deposits, which are priced off Libor, increased demand has pushed the benchmark lower. The rate on 90-day AA rated commercial paper was 2.51 percent on Feb. 6 after reaching 2.78 percent in December.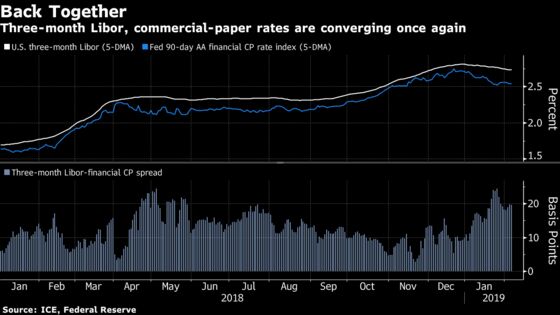 "The direction makes sense because we knew the market had to converge based on what we've seen in commercial paper, and it had been trending down as we continue to get prime fund inflows," said Blake Gwinn, a strategist at NatWest Markets. "What doesn't make sense is why 4 basis points, and why today."
Thursday's outsized move is further justification for markets to transition from Libor to an alternative rate, such as the Secured Overnight Financing Rate, U.S. regulators' preferred replacement, according to Gwinn.
"We should all be moving to SOFR as quickly as possible because this is a terrible benchmark," Gwinn said.