Dollar Libor at a 10-Year High Adds to Global Funding Headwinds
(Bloomberg) -- The global dollar benchmark rate that everyone loves to hate and which regulators have marked for extinction approached a 10-year high Wednesday, adding to strains on some emerging economies and U.S. companies alike.
The London interbank offered rate still serves as the basis for trillions of dollars in loans and floating-rate securities globally, even though its replacement is gaining traction. Steeper U.S. interbank borrowing costs risk rippling across developing economies by tightening financial conditions and forcing local-currency benchmarks higher. It's a development that could heighten investor concern at a time when a rising dollar has sparked worries about emerging-market borrowers' ability to repay loans in the greenback.
Three-month U.S. dollar Libor is now 2.4496 percent, the highest since November 2008. The main driver is that traders are pricing in further Federal Reserve tightening. Officials' latest quarterly forecasts indicate another rate hike this year followed by three more in 2019.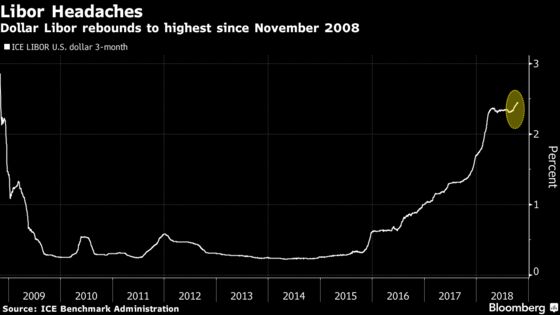 "For emerging markets, the increase matters, but the direction of the dollar has had even more of an impact," said Peter Boockvar, chief investment officer of Bleakley Financial Group. "I'm more worried about what Libor's rise is going to do for corporate America," especially for smaller companies that have a large share of debt linked to the benchmark.
The Bloomberg dollar index has risen about 6 percent since mid-April, and MSCI data show that emerging-market stocks have lost about 17 percent in that period.