Dollar Hits a Wall at 17-Month High, With Worst Day Since July
(Bloomberg) -- The dollar is poised to record its worst day since July following its best month in nearly two years. While the retreat may be partially tied to the calendar -- reflecting the turn of the grimmest month for U.S. stocks in years -- other bearish factors suggest it may be sustained.
The Bloomberg Dollar Spot Index is down 0.8 percent in Thursday trading, having fallen as much as 0.9 percent earlier in New York trading. It exceeded the previous day's high every day from Oct. 17 through Oct. 31, when it traded at the highest level since May 2017, stalling just below the 61.8 percent retracement level of last year's decline.
"We're thinking more broadly that this is another peak in the dollar, and we're going to see it drifting lower in the next year," Mark McCormick, head of North America FX strategy at TD, said in an interview. "The market has priced in an excessive amount of global stress."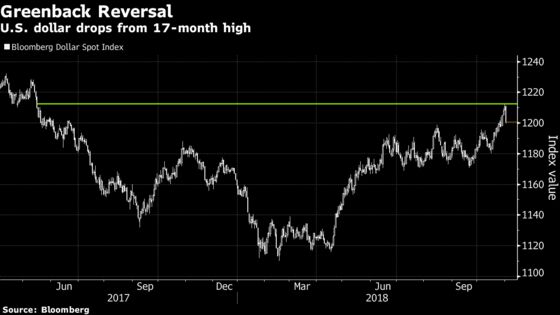 The S&P 500's nearly 7 percent drop in October likely fueled rebalancing flows back into U.S. stocks, which are now reversing, McCormick said.
But yuan strength is also a factor, he said, after China's leadership signaled more stimulus measures are being planned to shield the economy from repercussions of U.S. trade protectionism. And Brexit developments may lift the euro and the pound, which are undervalued relative to their cyclical drivers, TD says. The dollar, meanwhile, is more than 3 percent rich to the bank's global factor model.
Canadian Imperial Bank of Commerce's Bipan Rai pointed to a squeeze of Australian and New Zealand dollar short positions as a factor helping Thursday's greenback decline. The two South Pacific currencies are among the strongest performers in the Group of 10 in Thursday trading.
CIBC's North American head of foreign-exchange strategy underscored the importance of the Institute for Supply Management's manufacturing gauge, which on Thursday fell to 57.7, its lowest level in six months.
"A decline below the 57.0 mark should be an early signal of the much anticipated decline in the U.S. cycle and the inflection point for the USD. We're not there yet," Rai wrote in a note Thursday. "Looking ahead, one of the pillars of our bearish USD medium-term view is that the U.S. and global cycles will converge. We've shifted this bearish view into early 2019."