Dollar General Dives as Retailer Cuts Outlook, Blames Hurricanes
(Bloomberg) -- Dollar General Corp. shares dropped as much as 6.9 percent, the biggest decline in six months, after the U.S. retailer reduced its profit outlook for this year. Hurricane-related expenses ate into the discount chain's third-quarter earnings, with more impact expected in the current quarter.
Dollar General now sees earnings at $5.85 to $6.05 a share this year. That's 10 cents lower than the previous projection. The CFO, in a statement, blamed "hurricanes and other disasters."
Transportation costs are also coming in higher than expected, and that appears to be eroding profitability. The company's gross margin of 29.5 percent was short of analysts estimate of 29.8 percent.
Comparable-store sales, a key metric to gauge retailers' success, was 2.8 percent, above the average prediction of 2.4 percent. But this increase was fueled by higher average tickets, since customer traffic "was essentially flat," the company said.
Revenue grew 8.7 percent from a year ago -- solid growth, but slower than the previous quarter's performance. This may reinforce some investors' perception that retailers' expansion is starting to wane.
Dollar General shares were down 5.7 percent to $105.98 as of 9:39 a.m. in New York on Tuesday. Through Monday, the stock had gained 20 percent this year, compared with a 4.4 percent advance for the S&P 500.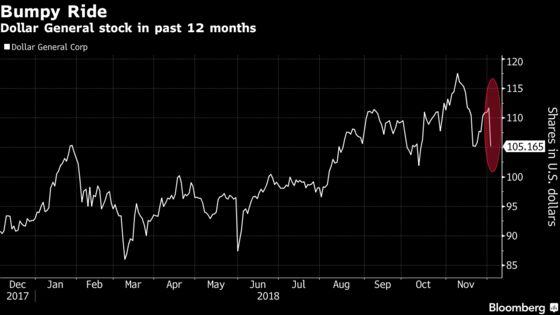 For more on the results, click here.
The severe hurricane season was a surprise to storm experts. Among the strongest were hurricanes Florence and Michael, which hit North Carolina and Florida, respectively.
Dollar General operated 15,227 stores in 44 states as of Nov. 2.