Dollar Fever Subsides in Argentina as IMF Plan Stabilizes Peso
(Bloomberg) -- When the economy goes south in Argentina, people know exactly what to do: Buy dollars.
Argentina relies on greenbacks so much that the Federal Reserve ranks it as one of the top two destinations, along with Russia, for shipments of dollar bills. In fact, Argentines routinely save in foreign currency -- keeping them in bank accounts and safes. When they put their homes up for sale, they're listed in dollars, not pesos.
Yet for the first time in nearly five years, Argentines sold more dollars in November than they bought, undoing a trend that would have turned 2018 into a record year for the purchase of U.S. currency. The reversal came as the government managed to stabilize the peso and curb inflation expectations with the support of a record $56 billion bailout from the International Monetary Fund.
"The stabilization of the peso following months of steady depreciation has brought relief to Argentines, who are now more eager to save in local currency," said Thomaz Favaro, a director at consulting firm Control Risks.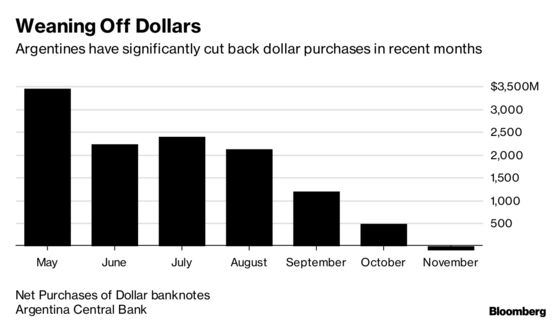 Net sales of dollars reached $107 million last month, an incipient trend reversal following net purchases of almost $18 billion this year, according to recently-published central bank data. Distrust in the local currency still runs deep -- Argentines keep some $29 billion in the banks and an unknown amount at home, often purchased on the black market.
Despite its stabilization, the peso has lost more than 50 percent of its value so far this year. The hemorrhage only stopped in October after the central bank implemented a currency trading band and froze the amount of local currency in circulation.
The strict monetary policy, intended to cool inflation, may sink South America's second-largest economy deeper into recession. But for now Argentines seem inclined to keep at least part of their savings in pesos in order to benefit from the hefty 48 percent interest rate paid by banks.