Dollar Retreats to Lowest Since 2018 on Prospects of Biden Win
(Bloomberg) -- The dollar dropped to its lowest level in more than two years as Joe Biden looked increasingly likely to claim the U.S. presidency, while the Federal Reserve kept its policy rate near zero and highlighted the importance of more stimulus.
The Bloomberg Dollar Spot Index fell as much as 1.1% to the lowest since May 2018. That came as the euro rallied as much as 1.1% and the yen strengthened past 104 per dollar, a resistance level dating back to 2016 that was broken briefly during virus-induced market panic in March.
The greenback tumbled as Biden appeared to be on the brink of winning the White House, while control of Congress remains uncertain. Investors have taken that scenario as a reason to pile into stocks, a risk-on backdrop that dims demand for the dollar.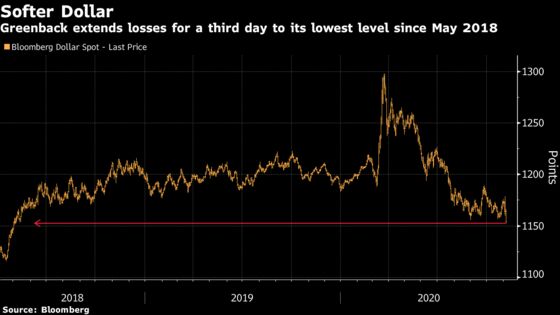 "The dollar has been declining as a result of the increasing likelihood of a Biden victory," said Sonja Marten, a currency strategist at DZ Bank AG. "For now, the dollar is trading as a safe haven and the prospect that we are going to get a clear election result sooner than some had feared is currently reflected in rising risk appetite, and hence a weaker dollar."
Investors have been bracing for such a slide from a Biden win that could pave the way for more stimulus. But the possibility of a large fiscal package has dimmed under prospects of a divided Congress, with Republicans keeping control of the Senate.
Fed Chair Jerome Powell reiterated the importance of fiscal stimulus and cited it as a contributor to economic recovery during Thursday's press conference. He also said officials discussed modifying asset purchases if conditions deteriorate, but did not change the program as of now.
A lack of robust fiscal stimulus would more than likely lead to an expansion of the current Fed policy as opposed to adding new monetary instruments, adding pressure on the dollar according to Alvise Marino, a foreign-exchange strategist at Credit Suisse Group AG.
The weaker greenback could see dollar-yen drop to the 102 or 103 level by year-end, and below 100 in the later part of 2021, according to JPMorgan Chase & Co. strategist Tohru Sasaki.
The Fed's monetary policy will drive the dollar lower, while the yen tends to appreciate during Democratic presidencies, Sasaki said. A drop in trade tension with China under a Biden administration may also reduce demand for the dollar as a haven, he said.
Read More
Euro Bullish Bets Are Back in Vogue as Biden Win Gets Priced In
JPMorgan's Yen Rally Scenario Is Close With Biden Near Victory