Dollar Bond Market in Asia Gets Rougher for Virus-Hit Borrowers
(Bloomberg) -- China's assurances to avert a widespread credit crunch stemming from the deadly coronavirus mean the $1.35 trillion Chinese-dominated Asian dollar bond market will avoid any wholesale meltdown. But there will be notable pockets of pain, market participants warn.
Weaker borrowers tied to commodity prices that have crumbled in recent weeks are one concern, along with consumer-facing or industrial businesses that aren't perceived by investors as being too-important-to fail. All are among the worst performers in the Asian junk dollar-bond market since the year began.
"China is the biggest driver of consumption of commodities globally and the weak demand could last for a while, which will hurt oil and coal companies in the region," said Soo Cheon Lee, chief investment officer at SC Lowy, a credit-focused financial firm.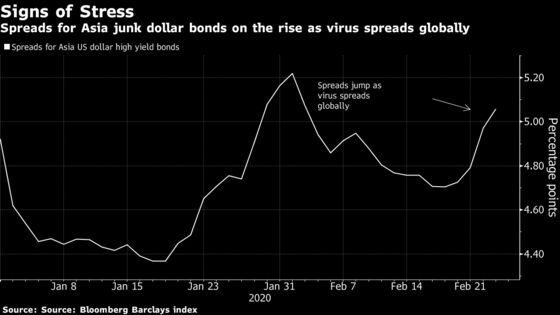 The market as a whole has taken a couple of rounds of blows since the emergence of the coronavirus as a threat in January -- first as it spread in China, then again over the past several days as cases soared in other nations.
With China being the world's biggest commodities importer, supplier firms have been among the worst performers among Asia dollar junk bonds since the start of the year, according to an ICE BofA index, including India's Vedanta Resources Ltd. and Mongolian Mining Corp. -- which has defaulted in the past.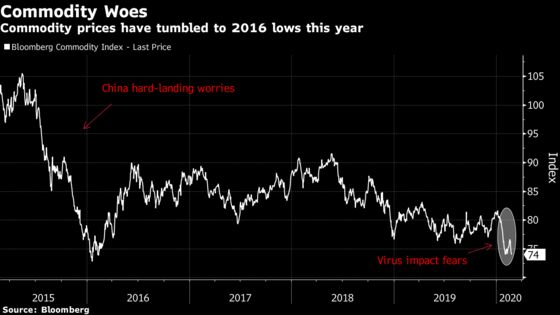 Some consumption-linked borrowers have also suffered, such as auto rental companies CAR Inc. and eHi Car Services Ltd. Dollar bonds sold by Wynn Macau Ltd. are among the underperformers as well, with Macau's gaming industry under pressure.
While borrowing costs in the high-yield Asian offshore market remain well down from the stressed levels of late 2018 -- when fears about Federal Reserve tightening saw risk assets sell off -- any further tumble on virus worries could sow refinancing concerns.
Asia-Pacific borrowers with dollar bonds yielding at least 15% --defined as stressed -- face $14.7 billion of maturing debt this year, according to data compiled by Bloomberg.
"Default risk is definitely increasing particularly for smaller low-tier companies," said Manjesh Verma, head of Asia credit sector specialists at Citigroup Inc. "We are most concerned about the China non-property sector, which has less state support," Verma said. "The trickle-down effect of China's easing measures are rarely seen for borrowers at the bottom of the food chain."