Dollar Bears Get New Lease of Life as Yields Hobble Currency
(Bloomberg) -- Dollar bears are making a comeback as falling Treasury yields handcuff the reserve currency. Technical indicators suggest the decline may extend.
The Bloomberg Dollar Spot Index climbed 0.1% Tuesday after falling for the previous six sessions in its longest losing streak since June. The index was pressured lower after Treasury 10-year yields dropped almost 15 basis points since the end of March. Leveraged traders have slashed bullish positions, according to the latest data from Commodity Futures Trading Commission.
"The U.S. dollar is breaking down through important levels," John Hardy, head of FX strategy at Saxo Bank, wrote in a note. "As long as the U.S. Treasuries threat remains neutralized, we could be set for a significant move lower here in the U.S. dollar."
Should a correlation between U.S. yields, bond volatility and the dollar extend, it could mean more weakness for the currency, according to an analysis by Citigroup Global Markets Inc. A recent break in a key technical formation known as a double top also appears bearish, the firm's analysts said. Meanwhile risk reversals -- a measure of sentiment and positioning -- are pointing to more losses.
The shift comes after an inflation-fear-induced surge in Treasury yields forced funds to abandon their dollar short bets last month. Recent solid U.S. economic data have, however, failed to push yields higher, eroding one of the greenback's biggest appeals.
Here's a look at why the dollar's drop may not be over as yet:
One-month risk reversals for the Bloomberg Dollar Spot Index on Tuesday day touched the lowest since early January, pointing toward more downside risks. The gauge reflects demand for greenback exposure and is heading toward its year-to-date low. A drop below that could mean more losses.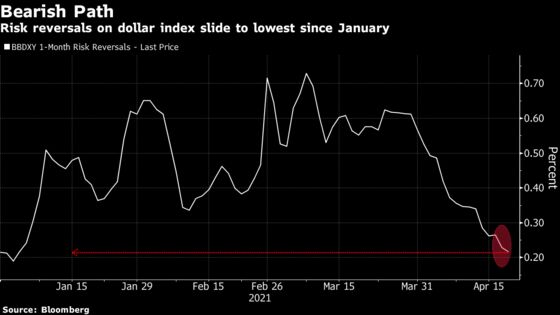 The Bloomberg dollar gauge completed a major double-top formation by breaking below a key trendline. That move opens the door to the February 2021 low of 1119, and if that is broken through, the decline may extend to the pivotal range of 1110-1112, Citigroup's Lauren Jung said Monday. That includes the lows from 2018 and January 2021.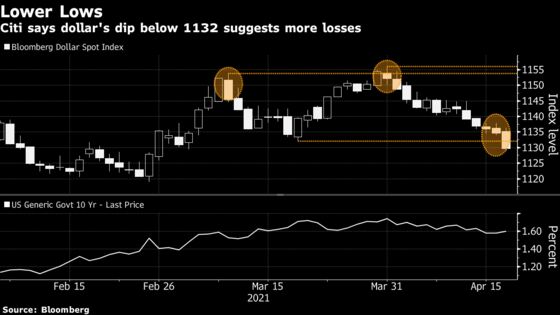 The BBDXY index has tracked U.S. yields this year, which also has been moving in tandem with lower bond volatility as seen in the ICE BofA MOVE Index. A continuation of that move should mean more pressure for the greenback.
Dollar bull Trevor Greetham, head of multi asset at Royal London Asset Management, said U.S. stimulus will once again push Treasury yields higher after a pause, but for now, he's "open-minded to a period of dollar weakness" amid the global economic recovery.
Leveraged traders pulled back on their bullish position last week, after flipping from a bearish stance in March, according to the latest data from Commodity Futures Trading Commission. They cut holdings back to 1,145 contracts, after it surged to as high as 23,067 contracts last month.