Dollar at Risk of Sliding If Congress Is Split After Midterms
(Bloomberg) -- A divided U.S. Congress as a result of upcoming mid-term elections could spell trouble for the dollar, with focus on political risks potentially shifting to America from Europe, TD Securities senior FX strategist Mazen Issa said in a note.
A split government would make it difficult to find common ground on infrastructure or tax policy, particularly if impeachment proceedings are started against President Donald Trump, Issa wrote. This may weigh on the greenback, which TD models say is 7 percent overvalued, as the currency loses the boost from the divergence of U.S. equities.
The U.S. growth backdrop has "probably peaked," according to Issa, and with a Brexit deal and an Italian budget resolution looking likely, investor concerns could shift across the Atlantic. This would be a boon for the euro and the pound, which have room to improve against the dollar, he said. Issa also noted potential implications for large foreign asset holders like Japan, which has invested in the theme of American optimism, and that the yen remains the cheapest in the Group-of-10.
"The pipeline of fiscal measures to keep the growth - and equity - party going alongside easy money conditions may dissipate," Issa wrote.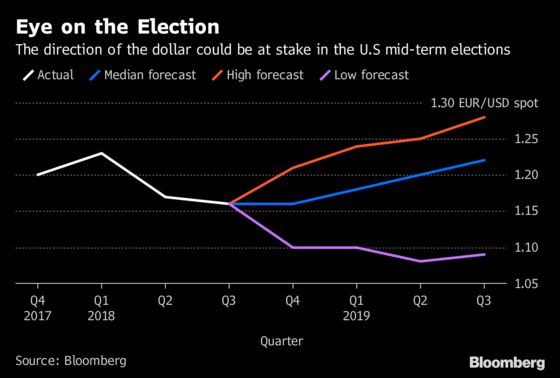 The mid-term elections are seen by some as a potential inflection point for the U.S economy, with the pace of growth potentially slowing and the nation's debt load soaring after a 2017 tax cut. Everything from interest rates to global currencies could be affected by the balance of power after the election. According to Bank of America Corp. strategists, one outcome is certain: volatility. They recommended in August that traders start hedging for post-election volatility.
Current forecasting for the Nov. 6 mid-term elections favors the Democrats to take control of the House of Representatives, while the Republicans are favored to hold on to the Senate.