Dividends Soar to Record After Tax Cuts and Bank Stress Tests
(Bloomberg) -- S&P 500 Index members are gearing up to pay out $124.1 billion in dividends in the coming months, a new quarterly record according to data compiled by Bloomberg.
The new high was ushered in by a lower corporate tax rate and the results of last week's Federal Reserve stress tests. Dividend declarations made during the second quarter were 12 percent higher than in the prior year, two percentage points greater than the increase from 2016 to 2017.
Financials led the way with a 36 percent year-over-year increase, fulfilling ambitious plans by the big banks to deliver cash to shareholders. Altogether, financial firms will distribute about 95 percent of their profits, the Fed projected, roughly in line with analysts' estimates.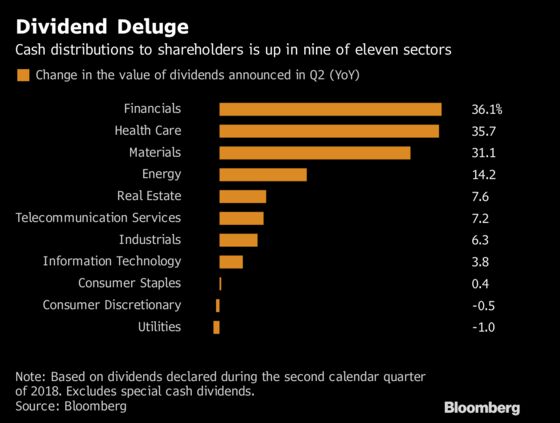 Automatic Data Processing Inc. chief financial officer Jan Siegmund attributed the surge in payouts to the Trump tax cuts. "The benefit of the corporate tax reforms were meaningful for ADP and our board felt compelled to transfer some of those benefits directly to you [shareholders]" said Siegmund. ADP's dividend will increase from 57 cents to 69 cents year-over-year, a 21 percent jump.
Health care and materials companies also announced dividend increases of over 30 percent. Two sectors, consumer discretionary and utilities, had decreases in the overall amount of dividends declared.