Disney Ties Iger Pay and Legacy to Messy Fox Deal
(Bloomberg Opinion) -- Walt Disney Co. needs to look like the Magic Kingdom again if Bob Iger wants to get paid like a king. 
Earlier this year, Disney shareholders balked at an exorbitant pay package that was awarded to the CEO amid the stock's middling performance. While the vote was symbolic, it was the first time shareholders objected to Iger's compensation plan since federal regulators enacted the "say on pay" measure in 2011. It was a meaningful statement given that Iger, 67, is one of America's most admired corporate leaders; only a tiny universe of S&P 500 companies lose such votes each year.
But in Disney's case, it was effective. In a filing on Monday, Disney tweaked part of Iger's contract, increasing his potential payout but also raising the stakes for him to receive it. He is now eligible for up to 1.17 million shares — worth about $135 million currently — if Disney beats at least 75 percent of the S&P 500 Index in the four years through December 2021, as Bloomberg's Anders Melin detailed here. The previous terms entitled him to 1 million shares for the same feat, though he could have earned the majority of them for merely meeting the S&P 500's median performance. And now, if Disney performs in the lower quartile of the index, Iger will receive nothing. (Of course, he'll still make out just fine with his $3.5 million salary, bonus and other equity awards.)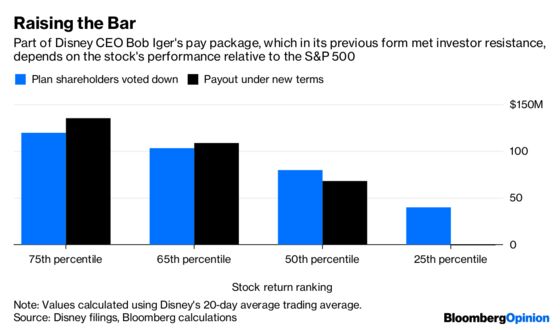 But does Iger really believe a legacy media company can beat the stock market by such a wide margin? At one time, it was a given that Disney would. However, since then Disney has become more vulnerable as Netflix Inc. and a deluge of other streaming services threaten the industry's two biggest streams of revenue: advertising and cable-package fees. Disney's stock gains didn't exceed even half the S&P 500 over the last four years, and that includes a period in which it was boosted by "Star Wars: The Force Awakens," the highest-grossing movie domestically of all time, according to Box Office Mojo. Buying Lucasfilm was part of Iger's M&A trifecta, which also brought Pixar and Marvel under the Disney umbrella. Now it may be hard to outdo himself. 
Just three years away from retirement, Iger is in the midst of his largest acquisition yet, an $85 billion deal (including debt) for 21st Century Fox Inc.'s cable-entertainment and film assets. The integration will likely be messier than Disney's past purchases, and the reward may be less meaningful, or at least less immediate.
As I wrote last month, the Fox transaction is part of Disney's new streaming strategy, which will require much investment and could lead to strife within the empire. It's not an ideal time to unsettle the ranks when Disney has yet to nail down a succession plan for Iger and previous candidates left unexpectedly over the years. Tough choices will be made as far as which new content should be reserved for the Disney+ streaming service, potentially instead of releasing it to theaters or home video or airing on its cable networks. The company may suffer a $1.4 billion hit to revenue in fiscal 2020 from reshuffling its content, including the impact from no longer providing its hits to Netflix, according to Michael Nathanson, an analyst for MoffettNathanson Research.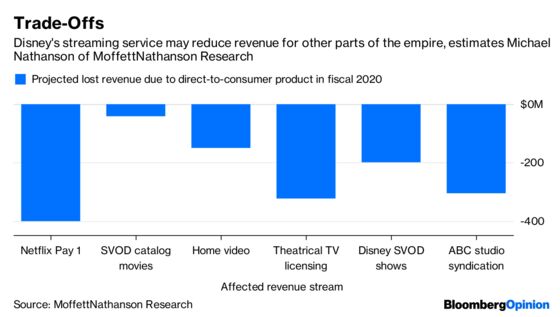 While shareholders have welcomed Iger's prolonged stay as CEO, it's not as if they needed to beg. Given his clear desire to continue running Disney, along with the speed bumps the stock has hit in recent years and the company's reduced visibility, is such a generous pay package justified? No. Would anyone else do a better job? Perhaps not, though Iger also hasn't given investors a chance to know otherwise.
He's going to make a fortune either way, but as for his legacy, it now rests on proving the Fox deal was worth every penny. 
This column does not necessarily reflect the opinion of the editorial board or Bloomberg LP and its owners.
Tara Lachapelle is a Bloomberg Opinion columnist covering deals, Berkshire Hathaway Inc., media and telecommunications. She previously wrote an M&A column for Bloomberg News.