Disney's Bob Iger May Have Missed His Shot at $60 Million Bonus
(Bloomberg) -- Walt Disney Co. Chief Executive Officer Bob Iger could miss out on a $60 million cash bonus.
Disney posted $15.7 billion of segment operating income for the year ended Sept. 29, adding up to $73.9 billion over the past five years, falling short of targets tied to the payout.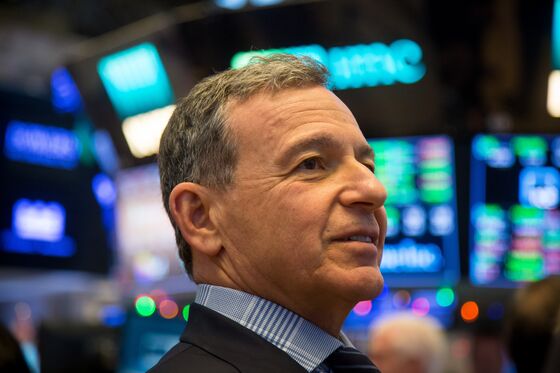 Disney granted him the bonus opportunity in 2014 as part of a contract extension. The CEO would receive part of the award if total adjusted operating income for the period exceeded $76 billion, and the full amount if it reached $78.3 billion.
There's still a chance he will get a sliver, or even a chunk, of the bonus. The board has reserved the right to adjust the five-year total to exclude acquisitions and divestitures that have put a drag on operating income, to ensure Iger, 67, wouldn't be discouraged from making such moves. Disney hasn't yet disclosed if any such adjustments will be made.
Any payout under the plan would add to what may be Iger's top year in terms of awarded compensation. He signed a new contract last year in connection with Disney's pending deal to acquire assets from 21st Century Fox Inc., entitling him to an additional $100 million of restricted stock. That opportunity will come on top of his regular compensation, which has averaged about $40 million in recent years, according to the Bloomberg Pay Index, a ranking of the best-paid executives at public companies in the U.S.
About a quarter of the $100 million award will vest if he remains CEO through 2021 while the remainder is linked to the firm's stock return compared with other S&P 500 companies.
Shares of the Burbank, California-based firm have returned 484 percent since he became CEO in 2005, including reinvested dividends, outpacing the 192 percent gain in the S&P 500 Index.
David Jefferson, a Disney spokesman, declined to comment.