Disney Is Estimating $75 Million U.S. Opening for Marvel Film 'Eternals'
(Bloomberg) -- Walt Disney Co. is estimating a roughly $75 million North American opening weekend box office for its new Marvel Studios film "Eternals," which would put it behind other Marvel and superhero movies this year despite a star-studded cast and a buzzy Oscar-winning director.
The number would make "Eternals" the third or fourth biggest opening this year, somewhere around Disney's "Shang-Chi and the Legend of the Ten Rings." The biggest debuts of 2021 have been $90 million for Sony Corp.'s "Venom: Let There Be Carnage" and $80 million for "Black Widow," which was simultaneously released on streaming service Disney+. "Eternals," like "Shang-Chi" and "Venom," will be available only in theaters at first.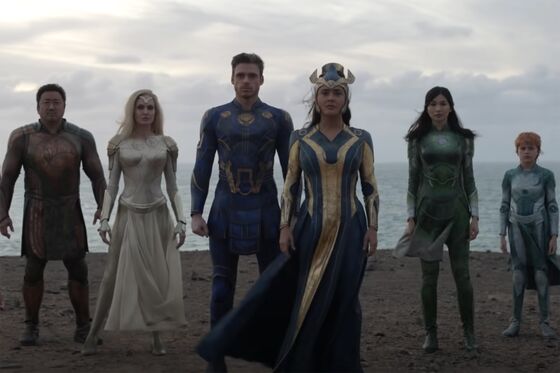 The new film, which opens Nov. 5, stars Salma Hayek, Angelina Jolie and others as a team of long-lived superheroes stationed on Earth for a special mission. It was directed by Chloe Zhao, who won an Oscar this year for "Nomadland." So far, it's received the worst reviews of any movie in Disney's Marvel Cinematic Universe, according to Rotten Tomatoes, with 56% positive.
Movie theaters recorded their best month in October since February 2020, but that's partially because so many delayed films are finally coming out. On a per release basis, Marvel superhero movies often reaped $100 million or more on opening weekend, though some were in the range Disney expects for "Eternals." 
November is also a traditionally slow moviegoing month ahead of the big blockbuster releases of the holidays. Another November Marvel film, "Thor: The Dark World," posted an $85 million opening weekend in 2013.