Disney 'Clobbered' After Pandemic Hit Overshadows Streaming
(Bloomberg) -- Walt Disney Co. shares fell on Wednesday, after the company's second-quarter results underlined the broad-based hit the media company is taking from the pandemic.
Adjusted earnings were more than 30% below expectations, the biggest miss in more than a decade, according to data compiled by Bloomberg. "Covid-19 has clobbered Disney's core businesses, and things will get uglier," Bloomberg Intelligence wrote. The pandemic has closed theme parks, docked cruise ships, and prevented Disney from releasing new films into theaters.
The widespread weakness had been expected, and while a number of analysts lowered their price targets, they were fairly positive on the steps taken to cut costs. Notably, Disney is foregoing its July dividend payment, which should "mitigate some of the pressure on profitability," UBS wrote.
Despite the weakness, analysts continue to be positive on the company's Disney+ streaming-video service, which is "the reason to own shares," according to Rosenblatt Securities.
Shares fell abut 1% in morning trading. The stock has already declined by a third since a November peak.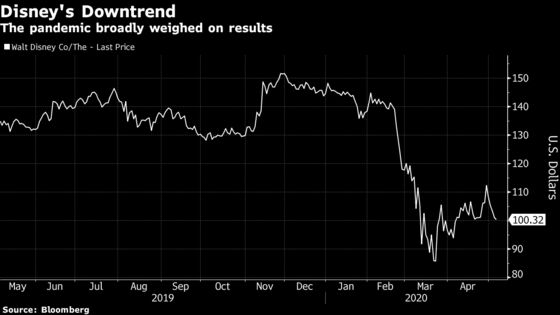 Here's what analysts are saying about the results.
The steps management took "to limit cash outflows/preserve liquidity" should "mitigate some of the pressure on profitability."
The company is "bracing for a tough June quarter."
Neutral rating, $114 price target.
BMO Capital Markets, Daniel Salmon
The dividend move "was a signal of fiduciary conservatism and a conscious culture (optics of full dividend payment are challenging after layoffs/furloughs/etc.)," as opposed to "any question of liquidity."
There is low visibility, but over the coming year Disney's streaming business will be a focus and help shares outperform.
Outperform, price target lowered to $140 from $150.
"We couldn't help feeling like we exited the call more uncertainty than when we entered it." The firm had hoped for "better clarity on Parks burn rate when closed," along with more visibility into margins and "operating rules/implications/parameters for operating in a pre-vaccine world."
Market-perform rating, price target lowered to $96 from $100.
Rosenblatt Securities, Bernie McTernan
Is "encouraged by Shanghai Disney reopening next week but the range of outcomes is still wide."
Foregoing a dividend "will result in some short term volatility in the stock," although this step will help "provide a margin of safety in this environment."
The Disney+ streaming service "is the reason to own shares."
What Bloomberg Intelligence Says:

"Covid-19 has clobbered Disney's core businesses, and things will get uglier."

- Analyst Geetha Ranganathan

- Click here for the research