TV Streaming Apps Can Learn From The Love of Free Shipping
(Bloomberg Opinion) -- As media giants such as Walt Disney Co. and AT&T Inc. devise subscription plans for new video-streaming products aimed at challenging Netflix Inc.'s supremacy, the retail industry can offer some advice: Don't underestimate the power of "free." 
Media companies are grappling with how much content to provide on their new video apps and how to price these new services. Disney is creating a cut-rate version of Netflix exclusively for fans of its Pixar, Marvel and Star Wars franchises. AT&T says its app will have a range of subscription prices to watch on-demand content from its HBO, Turner and Warner Bros. libraries. Depending on whether you'll tolerate ads, CBS Corp. charges a monthly rate of $5.99 or $9.99 for CBS All Access. There are an array of other paid services as well. 
But in another corner of the TV-entertainment market, there are the free streamers: Tubi, The Roku Channel, Amazon.com Inc.'s IMDb Freedive and Pluto TV, to name a few. Pluto is getting acquired by Viacom Inc., the parent of MTV. Viacom aside, many in the industry have dismissed these as bit players that won't catch on broadly, the idea being that most consumers would rather pay for a "premium" product than settle for a free, mediocre service that contains commercials. While it's too early to know who will emerge as leaders in streaming (aside from Netflix) or ultimately fade away, what we do know is that people love free stuff. 
Just look at the dynamics around shipping in the retail industry.
As e-commerce has matured, online shoppers in a growing number of markets have been given access to same-day or even one- or two-hour delivery. And yet, at least for now, we see that if the choice is between free and fast, consumers tend to choose free.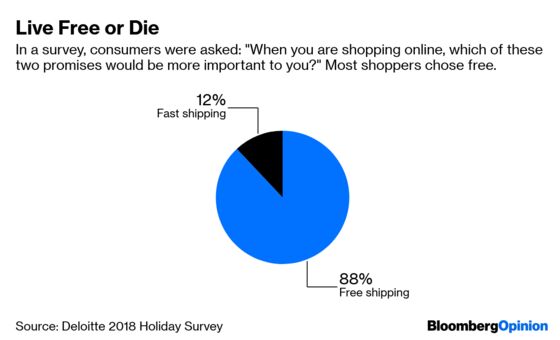 The aversion to shipping fees is shaping the shopping journey in a variety of ways. Consumers say it is generally an important factor in deciding where to shop. And the discovery that shipping on a certain site isn't free is a major reason for "shopping cart abandonment," the industry's term for when a customer fills up a digital basket but ultimately decides not to go through with the purchase.
The reticence to pay for shipping has also been a key motivator for shoppers to choose the click-and-collect format, in which they buy online and pick up the purchase in a store.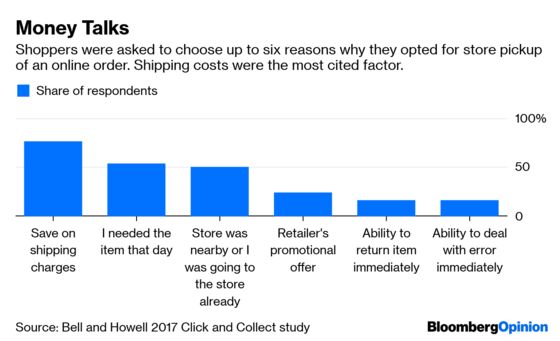 Amazon and Target Corp., retail industry heavyweights, have been investing heavily in faster shipping. Amazon is blanketing the country with its Prime Now service, and Target spent $550 million in 2017 to acquire Shipt, a same-day delivery startup. Still, each company decided that the way to win the most recent holiday season was to crank free shipping into overdrive. Amazon even decided to offer it to non-Prime members.
Amazon has a unique vantage point as both a retailer and a media company, and it's seen the value in free streaming. The company, through its IMDb business, last month launched a web-video offering called Freedive, that includes shows such as "Heroes" and "The Bachelor" without charge.
When we talk about anything as being free in media, what we really mean is ad-supported, in which the goal is to influence viewers to spend on products or services advertised to them. Despite the wave of cord-cutting, ads are still one of the primary ways that TV networks make money. Pluto, the service Viacom is acquiring for $340 million, has more than 12 million monthly active users, which Viacom said will enhance its "ability to serve advertisers," especially since Pluto's audience tends to be on the younger side, a harder-to-reach demographic. This approach is also cheaper than building a direct-to-consumer product from scratch. 
There are plenty of movies and shows like Marvel's "The Avengers" and HBO's "Game of Thrones" that many are simply willing to pay for. But the Balkanization of the TV industry is making streaming more expensive, and in that case, free — or "free" — can be as compelling to some viewers as it is to online shoppers.
This column does not necessarily reflect the opinion of the editorial board or Bloomberg LP and its owners.
Tara Lachapelle is a Bloomberg Opinion columnist covering deals, Berkshire Hathaway Inc., media and telecommunications. She previously wrote an M&A column for Bloomberg News.
Sarah Halzack is a Bloomberg Opinion columnist covering the consumer and retail industries. She was previously a national retail reporter for the Washington Post.