Dish Blames HBO Blackout for Defections, Escalating Feud
(Bloomberg) -- If you thought Dish Network Corp.'s last quarter was bad, just wait.
The satellite-TV provider, which lost 341,000 subscribers in the third quarter, expects an even worse customer exodus in the current period. The blackout of HBO and Cinemax, which began a week ago after a fee dispute with AT&T Inc.'s WarnerMedia, is going to take a toll, said Dish Chairman Charlie Ergen. About 2.5 million of Dish's 13 million customers subscribe to HBO.
"It's essential programming -- and we will lose customers," he said on a conference call Wednesday. "It will be a negative impact, for sure."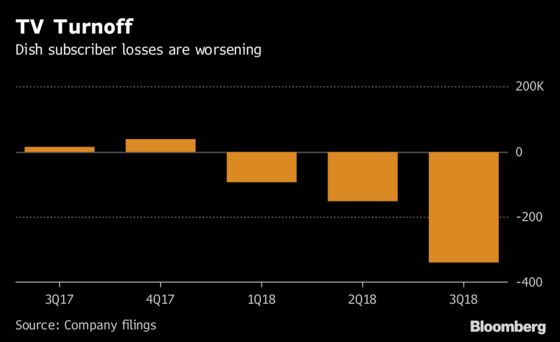 For its part, HBO doesn't want to be blamed for Dish's woes. Richard Plepler, chairman and chief executive officer of the network, came out swinging in a blog post on Wednesday afternoon.
"It was Dish who dropped the HBO and Cinemax signals at midnight on Oct. 31st, not the other way around," Plepler said. "In fact, we offered to extend our current contract while we continued negotiating. An idea that Dish initially agreed to and then oddly changed their mind about at the 11th hour."
The HBO disruption -- the first ever for the "Game of Thrones" network -- compounds an already-alarming erosion of Dish's customer base. Dish had been watching Univision customers flee after the loss of that popular Spanish-language programming. In fact, Dish said unhappy Univision customers made up half of the subscribers lost in the last quarter. The total outflow was 59 times bigger than the 5,800 decline that analysts predicted.
Contract disputes with media owners are routine with Dish, which is known to be one of the more aggressive negotiators in the industry. But the subscriber fallout puts even more pressure on Dish's pay-TV business and adds to a challenging scenario for Ergen, who bet billions acquiring airwaves for a next-generation wireless network that won't be ready for more than a year.
For now, investors are mostly taking the customer losses in stride. Though Dish shares tumbled in the wake of the earnings report, they soon recovered. The stock rose 2 percent to $32.12 by the close in New York.