Boost Mobile Hints at a Wireless Plan for Less Than $10 
(Bloomberg) -- Boost Mobile, the pay-as-you-go wireless unit of Dish Network Corp., has enlisted Best Buy Co. as its newest partner in a national retail expansion and will soon unveil some of the industry's lowest service prices, according to its chief, Stephen Stokols.
Adding more than 900 Best Buy stores to about 1,900 Target locations puts Boost Mobile in a better retail position going into the holidays, Stokols said in an interview. And while he's not yet ready to launch a free, ad-supported service plan, he hinted that Boost would shake things up with prices starting under $10. The company's lowest plan now is $15 a month.
Mobile phone carriers are targeting the prepaid business as a way to grow in a mature market. Prepaid customers, who tend to have lower incomes or a lack of credit history, are being lured with perks that include higher network speeds and video streaming subscriptions.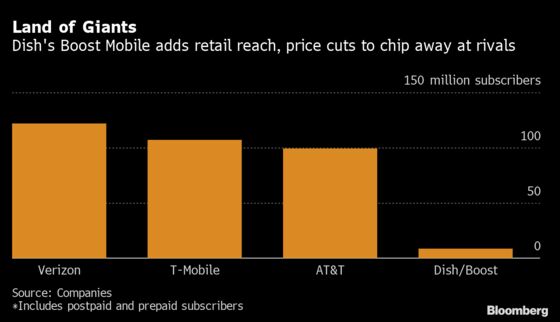 Dish bought Boost Mobile last year for $1.4 billion as part of a plan to create a fourth national wireless competitor. In July, after skirmishes with designated network host T-Mobile US Inc. over a transition of Boost customers from its system, Dish signed a 10-year, $5 billion network sharing agreement with AT&T Inc. The deal gives Dish and Boost the ability to sell wireless service in nearly every part of the country.
The yet-to-be-announced new Boost prices will not improve the company's profit margin, but should increase its market share, according to Stokols.
"We're going after the low hanging fruit," he said.