Disappointing Swedish Production Data Points to Weak GDP Growth
(Bloomberg) -- Go inside the global economy with Stephanie Flanders in her new podcast, Stephanomics. Subscribe via Pocket Cast or iTunes.
Swedish private-sector production unexpectedly slowed in March, adding to a slew of data pointing to a poor first quarter for Scandinavia's biggest economy.
According to Statistics Sweden, production was up an annual 1.1 percent, compared with a revised reading of 2.1 percent in February. Analysts surveyed by Bloomberg had expected an annual increase of 1.8 percent.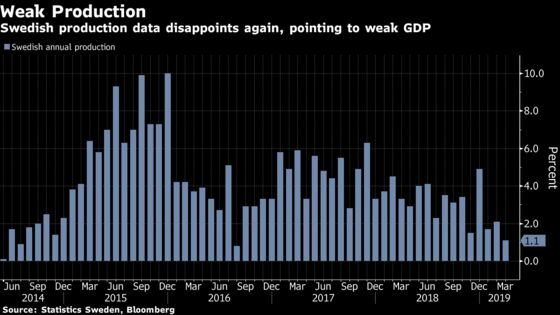 A breakdown of the data showed that production dropped an annual 1.3 percent in industry and rose 0.3 percent in the services sector. A majority of the industrial subsectors presented negative development on a monthly basis, in seasonally adjusted terms.
Among the industrial subsectors, the largest decrease was in the industry for motor vehicles, down 21.3 percent compared with February.
Tuesday's data follows last week's decline in manufacturing PMI for April.
The Swedish krona declined to its lowest level in a decade against the euro on Monday amid renewed anxiety about a global trade war and concern that the slowdown in the Scandinavian economy is deepening.
The production value and orders were "weaker than expected," said Jesper Petersen at Danske Bank, adding that the data is negative for Sweden's first quarter outlook
Oscar Andersson at Swedbank said that the 1.1 percent annual rate indicates a "leveling off" and that negative industrial orders reading is suggesting a slowdown ahead.
For more details, see this table