Dirty Money Scandal Gives One Swedish Bank a Way to Tout Virtue
(Bloomberg) -- One Swedish bank is making hay from its lack of a major presence in the Baltics as a money-laundering scandal sweeps the Nordic region.
Svenska Handelsbanken AB, Sweden's biggest lender by assets, is trying to get investors to buy its riskiest bonds by making sure they're aware it does very little business in Estonia, Latvia and Lithuania. The bank sold $500 million in additional Tier 1 notes this month with a promise that creditors would face "negligible Baltics exposure."
That approach follows successive rounds of allegations that some of the biggest Nordic banks were key players in channeling dirty money via their Baltic units. The suspicious funds originated in the former Soviet Union and made their way to the West, with Wall Street banks helping to pump the cash into the global financial system until as recently as 2015.
Mats Olsson, a spokesman for Stockholm-based Handelsbanken, says the bank made the decision to distance itself from the Baltics in its advertising material "to address all the questions we get" about its exposure to the region, "given what has happened in other Nordic banks and their Baltic activities."
Last week, Swedbank AB was dragged into the $230 billion Estonian money-laundering scandal that has engulfed Denmark's Danske Bank A/S. The Swedish institution is cooperating with investigations by supervisory authorities in Sweden and Estonia. The revelations have wiped about $5 billion off Swedbank shares, one-fifth of its market value, and its bond yields have spiked.
At the heart of investor concerns is the risk that Swedbank, the dominant financial presence in the Baltic region, could face value destruction on Danske's scale since the laundering scandal hit that bank about a year ago.
The stock price of Denmark's biggest lender has halved, erasing about $18 billion of value. Danske is being investigated by the U.S. Justice Department and the Securities and Exchange Commission, as well as prosecutors in several European Union countries, and faces class action lawsuits from furious investors.
Swedbank shares fell as much as 4 percent in late Stockholm trading Tuesday after Dagens Industri reported that the bank's former chief compliance officer, Viveka Strangert, lost her job in 2016 following her presentation of an investigation into the Baltic operations. Swedbank responded that her departure wasn't a result of her report.
Meanwhile, Handelsbanken's shares have gained since the laundering allegations started swirling.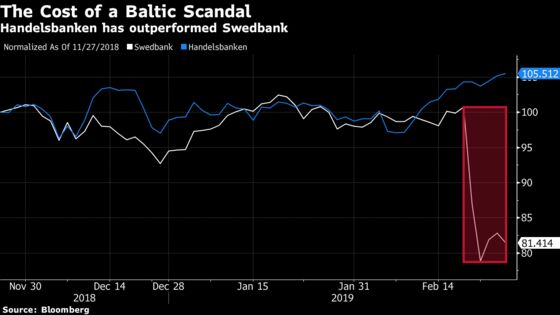 Worries about the risks of doing business in the Baltics have prompted several prominent members of Sweden's establishment to speak out. Riksbank Governor Stefan Ingves told reporters on Monday that "historically, there's been quite a big difference" between the Baltics and the Nordics.
In the Baltics, he said, there are "some bad guys around." Ingves said both regions need to work on fixing the problem.
After Estonia last week asked Danske to exit the country, the Danish bank said it's pulling out of all three Baltic nations and Russia. Analysts are starting to advise clients to buy Danske shares again on a perception that management is taking the right steps.
Estonian Prime Minister Juri Ratas, asked to comment last week on the allegations over Swedbank, said his nation had reduced laundering-related risks since the 2007-2015 period covered by the investigation of Danske and has a "zero-tolerance" stance on dirty money.
Handelsbanken has a single branch in each of the three Baltic countries, and says it serves local customers from its home markets -- the Nordics, the U.K. and the Netherlands. The exception is dealings with a handful of state-owned companies. Its assets in the region are dwarfed by those of Swedbank, which has around $18 billion to Handelsbanken's roughly $180 million.
Handelsbanken made a point of being clear about its Baltic exposure, Olsson said, because the question is "of interest to our investors."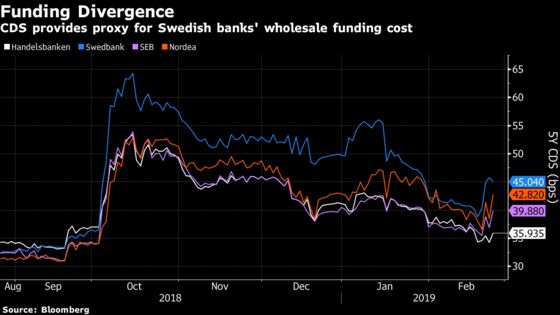 Meanwhile, the bank is advertising its British exposure as a reason to buy its bonds even though it's exposed to the upheaval surrounding the divorce from the European Union. Handelsbanken says it's done what it can to prepare for Brexit and will continue expanding U.K. operations "regardless of the outcome" because of the potential for growth.
Last year, operating profit there jumped 63 percent. That compares with no profit in Estonia and losses in Latvia and Lithuania, according to the bank's annual report.
Ingves, the central bank chief, pointed to the impact on Sweden's banks of the Baltic economic crisis a decade ago. After the initial shock, the "good times returned very quickly, and some things were left unchanged," he said. "That's of course unfortunate."