Dick's Shares Slump as Forecast Signals Sales Stagnation
(Bloomberg) -- Dick's Sporting Goods Inc. shares tumbled after the chain released a modest forecast that signaled growth could stall in 2021 after a roaring pandemic year.
The retailer, whose sales have been elevated as shoppers seek more outdoor entertainment, said same-store sales could fall as much as 2% in 2021 if the low end of its forecast plays out. At the high end, sales could rise as much as 2% off 2020 levels.
It also forecast full-year earnings per share, excluding some items, would be between $4.40 and $5.20, compared with the $5.18 average estimate compiled by Bloomberg.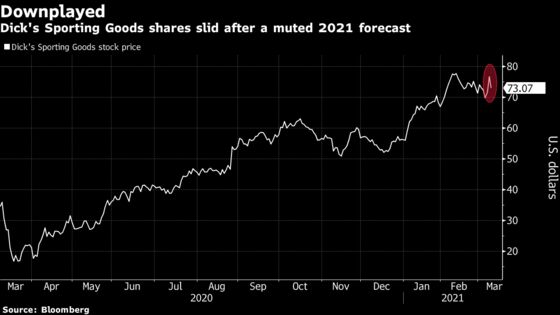 Shares dropped as much as 6.1% to $72.01 in New York trading. They were up 36% this year through Monday's close.
Dick's had been enjoying robust sales and profit during the pandemic, with same-store sales surging 23% in the third quarter ended Oct. 31. The company indicated some gathering troubles when it reported those results in November, though, saying the quarter-to-date growth rate had slowed as warm weather hurt sales of cold-weather gear. True to word, the pace of sales growth has continued to inch off the earlier meteoric pace, rising 19.3% in the fourth quarter ended Jan. 30.