Dick's Falls on Sluggish Fourth-Quarter Results Amid Gun Fallout
(Bloomberg) -- Dick's Sporting Goods Inc. fell as much as 8.2 percent in early trading after it said two key measures lost ground in its fiscal fourth quarter as the company contends with its retreat from some gun sales.
Gross margin -- net sales less the cost of goods sold, as a percentage of total revenue -- slid to just under 28 percent, missing analysts' estimates. Same-store sales dropped 3.7 percent in the period ended Feb. 2, or 2.2 percent after accounting for an extra week in the year-earlier period.
Margin growth earlier in the year was attributed to an expansion of the company's private brands, including outdoor label Field & Stream and Calia, the women's clothing line done in collaboration with country star Carrie Underwood. Overall private-brand sales may top $1 billion in 2018, according to Bloomberg Intelligence.
Though guns have lower margins than shoes or apparel, they drive store traffic that spurs higher-margin sales of other items. In February 2018, Dick's Chief Executive Officer Ed Stack ended sales of assault-style rifles and high-capacity magazines, and of all guns to anyone under 21 years old. He has said the decision, met with both anger and cheers, hurt overall sales last year.
The firearm decision likely also weighed on same-store sales (Dick's in August announced it was removing hunting items entirely from 10 stores across the country). Though same-store sales dipped 3.1 percent in 2018, the company is projecting a flat-to-2 percent increase in 2019, with growth starting in the second quarter.
Dick's shares fell as low as $35.70 in premarket trading. The stock is up 25 percent so far this calendar year.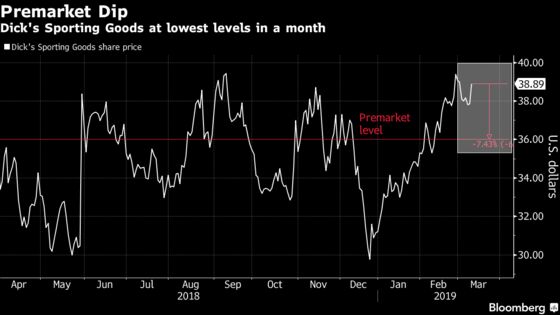 See more details.
Read the statement.
See Wall Street estimates.