EM Bonds Offer Rare Reprieve as Investors Flee Risky Assets
(Bloomberg) -- Emerging-market bonds are proving more immune than developing stocks and currencies to a coronavirus outbreak that threatens global growth.

Firms from BlackRock Inc. to Lazard Asset Management have homed in on emerging-market debt, saying growth will be delayed, not derailed, by the virus. The asset class has been a bright spot for developing-world investors as currencies near three-month lows and stocks drop, given its narrower exposure to Asia and expectations for further monetary easing.
"Emerging-market fixed income will emerge relatively unscathed," Sarvjeev Sidhu, the Cedar Rapids, Iowa-based head of emerging market strategy at Aegon Asset Management, wrote in a note. "It is not all bad news for emerging markets."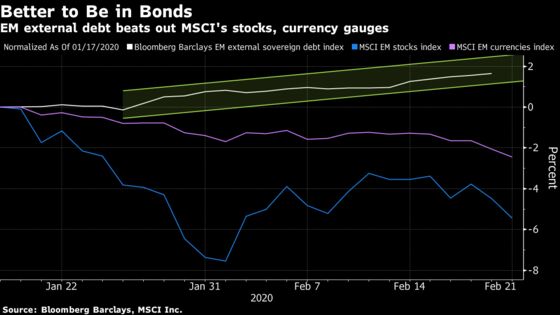 The Bloomberg Barclays index for dollar-denominated EM government bonds has returned 1.7% since the virus sell-off started on Jan. 17 and a local-currency debt gauge is down just 1%, in part because Asia makes up a smaller part of the credit market's composition, according to Aegon's Sidhu. By comparison, MSCI Inc.'s gauges measuring stocks has lost 4.5% and currencies are down 2.1%. JP Morgan's currency index lost 3.3% since then.
Emerging-market governments and companies have sold almost $300 billion in debt so far this year, a 9.4% increase from the same period a year earlier, data compiled by Bloomberg show. Mexico, meantime, said this week that it plans to sell sovereign bonds that comply with environmental, social and corporate governance standards.
The relative safety of emerging-market debt is being driven by expectations that the virus's impact on growth will be temporary, and that easing by central banks will reduce the risk the turmoil will lead to defaults or restructurings, according to Sara Grut and Caesar Maasry, Goldman Sachs Group Inc. analysts in London and New York, respectively.
"The downside risks which tend to matter most for the pricing of credit risks appear relatively contained," they said in a note. The drawback, though, is that bonds may be less likely to rally along with equities and currencies if the virus is contained and risk sentiment improves, they wrote.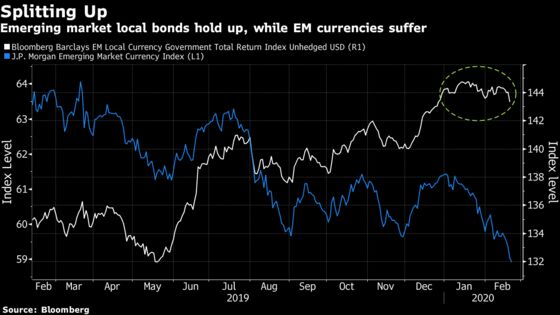 "EM local rates usually benefit from more defensive positioning amid sluggish growth and global risks," Jundong Zhang, a macro strategist for Deutsche Bank Securities Inc. in New York, said in an interview.