Deutsche Bank Zeroes in on Management Board Bonuses After Cuts
Deutsche Bank AG is zeroing in on how steep bonus cuts should be for the management board after taking an axe to discretionary pay throughout the firm because of a large loss.
The board is nearing a final decision on the reductions as the lender prepares to unveil its biggest annual loss since 2015, people with knowledge of the matter said, asking not to be identified as deliberations are ongoing. Chief Executive Officer Christian Sewing is still debating pay with fellow top executives -- which were awarded their first bonus payments in four years in 2019 -- with options ranging from no bonus to much lighter cuts, according to the people.
Sewing and Supervisory Board Chairman Paul Achleitner must balance their wish to reward the management board members for their work in 2019 with the risk of a public backlash against executive pay ahead of an annual loss analysts have forecast at 4.9 billion euros ($5.4 billion). The bank awarded top executives 25.8 million euros in bonuses last year after its first profit since 2014.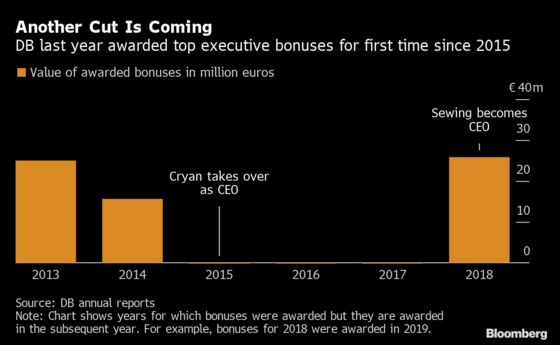 The bank has decided to cut the overall bonus pool by about 20%, Bloomberg has reported, with the pool for discretionary pay at the investment bank set to decrease by about 30%. The reduction, largely decided late last year, came amid intense scrutiny from the European Central Bank over the amount, three people briefed on the matter said. The ECB wants to ensure Deutsche Bank can afford to pay bonuses without pushing its regulatory capital below a level seen as inadequate, the people said.
At least one of Deutsche Bank's financial regulators thinks the bank should not pay a bonus to the management board, a person familiar with the matter said. Investors including Deka -- which is a top-15 shareholder -- have expressed skepticism about large bonuses for the management board as well. The bank is expected to post a large loss because of restructuring charges.
A spokesman for the bank and ECB spokeswoman declined to comment.
The bank will publish compensation details in its annual report, which it will release on March 20. Former CEO John Cryan eliminated the payouts for the board from 2015 through 2017.