Deutsche Bank Rising Trader Bonuses Anger Lesser-Paid Staff
(Bloomberg) -- Deutsche Bank AG is facing criticism from within its own ranks for boosting payouts to traders.
"It's bitter to see what kind of bonus pots are possible for investment bankers when there's supposed to be no money for the company's low-paid staff," Stephan Szukalski, head of the DBV trade union and a former labor representative on the lender's supervisory board, said by email. The lender "is abdicating its social responsibility" if it raises discretionary compensation for traders while refusing to pay more to other staff who need it more.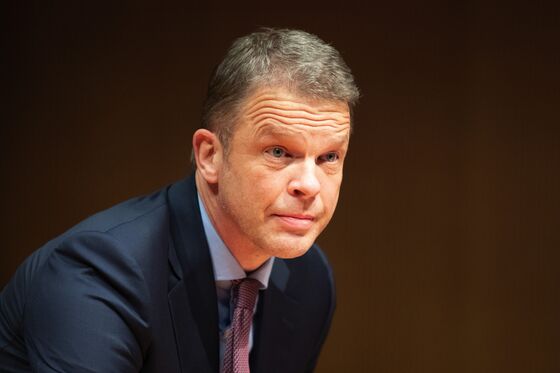 Germany's largest bank has expanded its bonus pool for last year to over 1.8 billion euros ($2.1 billion) from approximately 1.5 billion euros in 2019, according to people familiar with the matter. The lion's share will go to investment bankers after the division -- focused on fixed-income trading -- had a standout performance that lifted the lender to its first annual profit in six years.
At the same time, the firm is locked in a drawn-out conflict with staff over pay at its call center subsidiary DB Direkt. The unit's employees have been on strike for five weeks to protest for a significant raise on pay that, for some, is "barely above the minimum wage," according to Szukalski.
"There's enough money for investment bankers but not for us," DB Direkt employee Tobias Heil was quoted as saying on a website run by the trade union ver.di. "That's unfair."
DB Direkt paid its 674 employees an average of 34,100 euros in 2019, according to the unit's annual report. That compares with about 230,500 euros at the investment bank, the annual report shows. The highest-earning individual at the firm made more than 13 million euros, though their identity hasn't been disclosed.
A Deutsche Bank spokesman declined to comment.
Last year, the investment bankers, who represented just over a tenth of the workforce at the time, received almost a third of the total bonus pool.
Chief Executive Officer Christian Sewing has said repeatedly that the bank needs to pay competitively to retain and attract talent, especially in the investment bank. He initially planned to expand the bonus pool by more than a third to over 2 billion euros, but pared that amount after objections from the European Central Bank.
A bonus pool of about 1.8 billion euros would still be roughly a fifth higher than in 2019. UBS is boosting its bonus pool by a quarter, while Credit Suisse Group AG and Societe Generale are cutting their total bonus pools.
Deutsche Bank will disclose further details in its annual report which is scheduled for publication on Friday, March 12. Handelsblatt previously reported the size of the bonus pool for 2020.