Deutsche Bank Risks Higher Capital Bar for Leveraged Loans
(Bloomberg) -- Deutsche Bank AG is facing higher capital demands from its top regulator if it doesn't soon slow the pace of lending to highly indebted clients, complicating efforts by Chief Executive Officer Christian Sewing to boost growth and profitability.
After months of behind-the-scenes discussions, the European Central Bank has told Deutsche Bank that it will probably have to hold more equity to account for the risks it takes in leveraged lending, according to people familiar with the matter. The lender may yet dodge a higher bar for capital if it dials back those risks before the ECB sets 2022 requirements by the end of this year, the people said, asking not to be identified discussing the private information.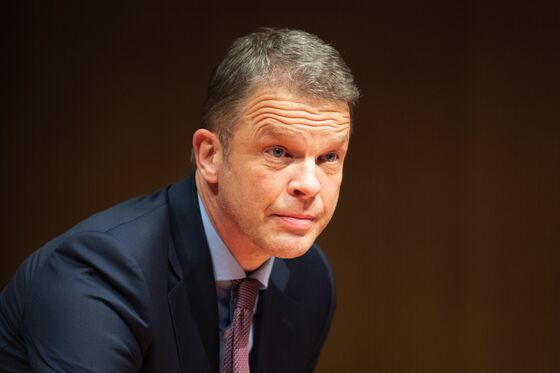 The lucrative business has been a key contributor to the investment banking unit, and it's taken on a greater significance this year as the trading rally that's powered Deutsche Bank's rebound so far is beginning to peter out. After taking market share from rivals, it's now facing closer scrutiny from its regulator, which urged firms to be cautious in leveraged finance even before the pandemic raised the prospect of a wave of corporate defaults.
"Leveraged loans are an important business for the economy and many banks, including Deutsche Bank," said a spokesman for the German lender. "We have a strong track record in the business and we follow a prudent risk management approach in line with regulatory requirements. As a matter of principle we do not comment on dialog with our regulators."
An ECB spokeswoman declined to comment.
The ECB has communicated "clear expectations" on leveraged loans to the banks under its purview, Supervisory Board Chair Andrea Enria said at a conference last week. However, "we have not seen enough responsiveness," he said, without naming any lender.
Deutsche Bank shares extended their decline in Frankfurt trading, falling as much as 1.6%. They have risen about 22% this year amid a wider rally for banking stocks.
The lender is the biggest leveraged loan provider among banks based in the European Union, and the business has been a focus of regulators before. Last year, the ECB recommended that the lender suspend parts of the operations after it identified shortcomings in how it manages risk. Deutsche Bank took remedial action, but didn't follow the ECB's request to halt high-risk transactions until the issue was resolved, a person familiar said at the time.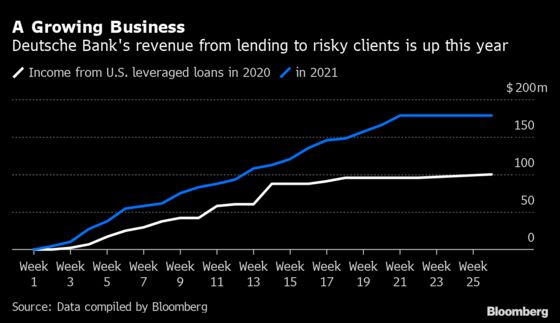 Sewing needs the leveraged loan business to achieve his overriding goal of boosting profitability during the last leg of his four-year turnaround effort, which runs through the end of next year. The CEO has guided for stable revenue at the investment bank this year even as earnings from trading are expected to wane, meaning other units will have to step up.
The leveraged loans unit made more than $300 million in revenue in 2020, helped by lead roles on some of the year's biggest deals including $23 billion in loans to T-Mobile to acquire rival Sprint, according to data compiled by Bloomberg. Deutsche Bank ranks seventh in U.S. leveraged loans, up from 10th place last year, the data show. In Europe, the Middle East and Africa, it's ranked third after gaining one level.
The German lender said the business was the key driver behind a 5% increase in debt origination revenue in the first quarter from a year earlier.
Deutsche Bank prides itself on its credit risk management, and it has been setting aside less money for doubtful loans after ratcheting up provisions last year at the onset of the pandemic. It was also among the few lenders to Archegos Capital Management that walked away unharmed when the family office collapsed earlier this year.
At the same time, the bank has had to contend with string of new regulatory challenges. German regulator BaFin in April expanded the mandate of its anti-money laundering monitor at Deutsche Bank, while the Federal Reserve admonished the lender over ongoing compliance failures. There's an internal investigation into alleged misselling of derivatives in Spain, and Chief Risk Officer Stuart Lewis is facing a probe over his role in dividend arbitrage transactions known as Cum-Ex.
Sewing has made mending fences with regulators a top priority of his tenure following a decade of deteriorating relations, but the ECB's focus on leveraged loans poses a new dilemma. If he chooses to comply with the request to cut risk, he will rein in a lucrative unit that he needs to meet his targets.
If he doesn't, Sewing would send a confrontational signal to a powerful stakeholder, and the business could become significantly more costly to conduct. The ECB could tell Deutsche Bank to apply a capital add-on specifically tied to the leveraged loan unit or impose a higher overall capital requirement on Deutsche Bank to account for the risk it takes, said the people.