Deutsche Bank Report Says Student Loan Debt Is a 'Micro Problem'
(Bloomberg) -- That $1.6 trillion in student loan debt floating around in the U.S. economy? Not that big a deal in the grand scheme of things, according to Torsten Slok, chief economist at Deutsche Bank Securities.
Student debt is a hot-button issue, and Senator Elizabeth Warren's proposal to cancel such debt for many borrowers strikes a visceral chord for anyone who's struggled with the loans. But viewed next to the $104 trillion in household net worth, that $1.6 trillion is more of an unfortunate "micro problem" for individuals than a macro problem for the economy, Slok said. Some 0.8 percent of the U.S. population have student loan balances that top $100,000. Loan balances for most of the 14 percent of the U.S. population with student loans are between $10,000 and $25,000.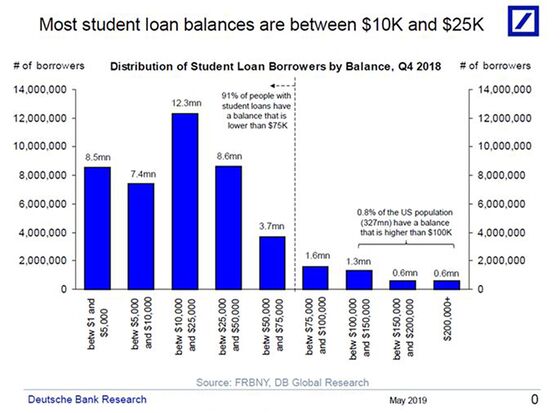 "When you see pictures in the paper of people with $100,000, $200,000, $300,000 in student loan debt, that is only about 2.5 million people, or less than 1 percent of the population," Slok said. "The question is: How representative is that individual for the whole economy? Not too much."
Even small amounts of student loan debt can have a negative impact on financial health, however. People with higher student loan debt have lower rates of homeownership, according to research conducted by the Federal Reserve. The loans also make it tougher to save for retirement. The number of consumers age 60 and older with student loan debt quadrupled from 2005 to 2015, from about 700,000 to 2.8 million, according to a 2017 report from the Consumer Financial Protection Bureau. These borrowers now owe more than they did in 2005: The average debt rose to $23,500, from $12,100.
The broader cyclical consumer debt picture is more important, Slok said. He points to rising delinquency rates in a wide range of consumer loans, outside of student loan debt, over the past few quarters. "Why is the delinquency rate going up on consumer loans when the economy has been very strong?" he asked. "You are beginning to see more signs of cracks on the consumer cyclical side, in consumer credit."