Deutsche Bank Raps Analyst Who Slammed Merkel Era Failings
(Bloomberg) -- Deutsche Bank AG faulted a report by one of its analysts that criticized the German establishment for missteps and failures to support the country's financial industry.
A summary of a research report by Jan Schildbach circulated Tuesday made a list of criticisms from the "qualifications" of regulators to a "failed" government-backed pension system. Schildbach declined to comment when reached by phone on Wednesday.
The German lender and its research division "distance themselves from the inappropriate criticism in substance and tone of regulators and policymakers which were expressed," a spokesman said.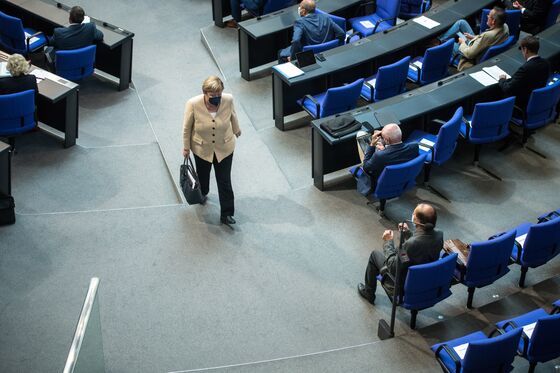 German finance has indeed fallen behind international peers over the last decade as stricter regulation under Chancellor Angela Merkel weighed on returns and the failure of aggressive growth plans saddled big banks with high legal bills. Yet with elections due this month, companies are keen to maintain links to politicians and Deutsche Bank in particular has sought to rebuild its relationship with regulators.
The analyst expressed his own views, which aren't shared by Deutsche Bank and were not authorized by the leadership of the research division, the spokesman said in a statement.
The report is no longer available on Deutsche Bank's website. The summary highlights the following areas that are in need of reform:
Deficits in the culture and qualifications of regulators after a series of scandals
A banking market split between savings, cooperative and commercial banks that prevents consolidation and puts lenders from outside the country at an advantage
Investment firms' profits being taxed at 30% in Germany, higher than the international average of 22%
Many banking regulations that are splintered along national lines in Europe and an increase in the fragmentation of capital markets after Brexit
Germany's government-subsidized Riester pensions have "failed" and the state has reduced incentives for savers to make their own investments