What the Deutsche Bank Raid Means to Investors
(Bloomberg) -- With yet more bad headlines surrounding Deutsche Bank AG, some analysts suggest the cure may rest in a reshuffle of its management.
In the most recent events, the shares dived after news broke that German authorities had raided its Frankfurt headquarters as part of a money-laundering investigation. The probe had analysts questioning whether the bank's Chief Regulatory Officer Sylvie Matherat and supervisory board Chairman Paul Achleitner will remain in their jobs.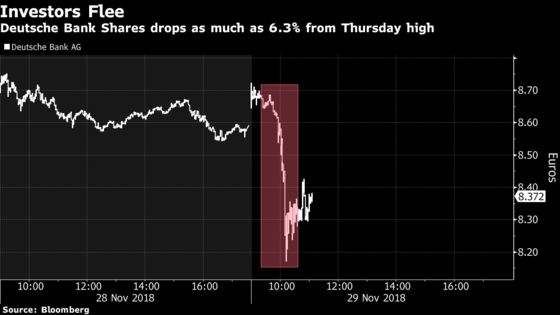 Here's what commentators are saying:
Klaus Nieding, DSW Vice President
There is scandal after scandal and "one could say we are getting used to it" but the management has to make the bank work, Nieding says on Bloomberg TV
Says the question is whether Matherat is the right person for the job
Says Chief Executive Officer Christian Sewing had a lot of compliments when he took over the role, but now he has to deliver
Markus Riesselmann, Independent Research analyst
Says that just when it was thought Deutsche Bank had left its legal troubles behind it, there's more
Any resulting fines probably won't be of the size seen in recent years
Investors want to be able to focus on the bank's operating business, so this is unhelpful
Says a management reshuffle can't be ruled out because of this, but if we do see one investors will probably continue to steer clear of the shares
We need to see some real improvements in Deutsche Bank's operating business before investors see a reason to go back into the shares
Stefan Mueller, CEO of DGWA
The bank will now be paralyzed for months until it becomes clear how it will be affected by new potential fines, Stefan Mueller CEO of DGWA, an investment advisory boutique based in Frankfurt, says by phone
Says the bank needs fresh blood and that maybe this time supervisory board chairman Achleitner will fall
Ingo Frommen, LBBW analyst
The sums that are mentioned are pretty small compared to those that have worried investors regarding the Danske Bank scandal
Says this is bad for the sentiment around the firm
Sewing is unlikely to be harmed too much and it needs to be known whether there were structural failings, he says