Deutsche Bank Is Doing Just Fine, Says Its Top Investment Banker
(Bloomberg) -- The chief of Deutsche Bank AG's embattled securities division says investors who have hammered the lender's shares to an all-time low have it wrong.
"The franchise has not been impaired," Garth Ritchie, a two-decade veteran at Deutsche Bank, said in an interview after the bank last week reported its worst third-quarter revenue in eight years. "I'm very confident that we'll remain Europe's number one investment bank for the foreseeable future."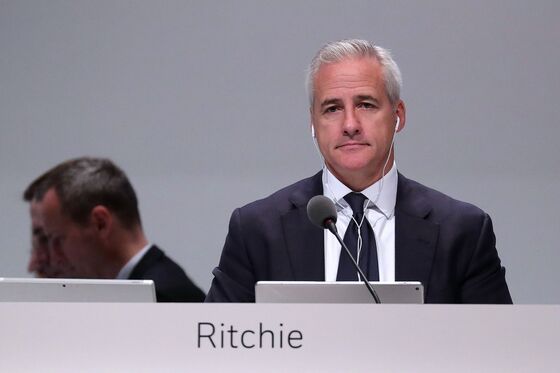 Top officials at Deutsche Bank are struggling to convince investors that their plan for overhauling Europe's biggest investment bank -- the fourth such attempt since 2015 -- and ending a multiyear slump isn't causing more harm than good. Key to shareholders' concerns is whether Chief Executive Officer Christian Sewing's aggressive cost-cutting is harming the lender's ability to increase revenue and fend off aggressive U.S. and European rivals.
Revenue at the corporate and investment bank fell 13 percent in the third quarter from a year earlier, and 15 percent from the prior three months, contributing to Deutsche Bank's worst third quarter by revenue since 2010. But Ritchie, who has helped lead the investment bank since 2016, said investors should instead focus on the 4 percent drop in fixed income trading from the previous three months, which he said was better than the market average. He expects the business to start growing again under John Pipilis, and equities to follow next year.
"In important areas for our franchise, we have been gaining market share," he said. "We're competitive."
Sewing, Ritchie's third top boss in three years, has emphasized that Deutsche Bank is now ready to grow again, but investors have heard such promises before, under Sewing's predecessor John Cryan. Some say they franchise may be too damaged by years of cost cutting to end the contraction.
"Rather than costs, our greater concern is on revenues, where we believe management's targets are overly aspirational,'' Citigroup Inc. analysts led by Andrew Coombs wrote last week. "The hope is that revenue attrition should now stabilize and the bank can 'build from here.' In contrast, we fear the bank could continue to cede sales & trading share based on current momentum."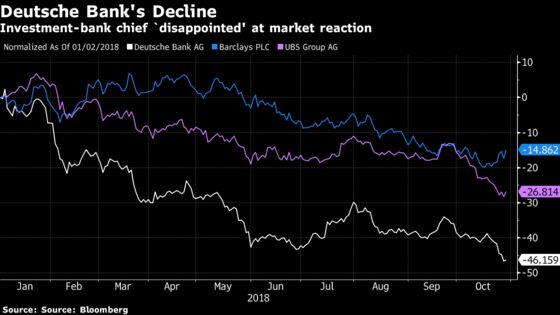 Deutsche Bank shares tumbled after the firm reported earnings Oct. 24 and ended the week at a record low of 8.52 euros per share. The stock has lost almost half its value this year, the second-worst performance among major European lenders, and the cost to insure against the lender's default has more than doubled.
The German lender's results contrasted with those of Barclays, which on the same day reported an increase of almost 10 percent in fixed income, currency and commodities income, beating even U.S. peers. CEO Jes Staley, a believer in investment banking after spending more than 30 years at JPMorgan Chase & Co., took a stab at underperforming European peers.
"There have been comments that Europeans can't compete with the U.S. investment banks," he said last week. "And I point out that with four quarters in a row, we have gained market share. I think you have to raise the question about that view."
Cutting costs, Staley said, "is not something that you can sustain."
Deutsche Bank's declines in revenue are happening in parts of the investment bank where the German lender has decided to pull back, said Ritchie. At the equities business, for example, one of the worst-performing among global lenders, Deutsche Bank has cut 25 percent of headcount since April and reduced its leverage by 40 billion euros ($46 billion).
"We're disappointed with the way the market has reacted," he said. "We're proud of who we are, and what we do. We're going to work very hard to improve" market perception.