Deutsche Bank Investment Banking Revenue Up 20% This Year
(Bloomberg) -- Deutsche Bank AG​​​ said investment banking revenue has risen about 20% so far this year, as the market volatility that spurred gains during the height of the pandemic endured into early 2021.
Chief Transformation Officer Fabrizio Campelli gave the outlook for the German lender's largest revenue contributor at an online event hosted by Morgan Stanley on Thursday, saying also the firm has continued to win market share in investment banking. He didn't give further details.
Germany's largest lender earlier flagged a "good start" to 2021, signaling that trading returns are helping to offset a weak economy. Credit Suisse Group AG and Societe Generale SA each flagged strong investment banking momentum recently, with the Swiss lender seeing revenue up 50% from last year.
Deutsche Bank is riding a trading boom from companies buying hedges to navigate increased uncertainty, governments issuing debt to weather the fallout from lockdowns and investors repositioning their portfolios in response to rapidly changing macroeconomic outlooks.
However, the lender expects revenue from buying and selling securities to taper off eventually and is predicting lower revenue at its securities unit overall for this year. The analyst consensus compiled by Bloomberg anticipates an annual drop of 15% in the lender's trading top line.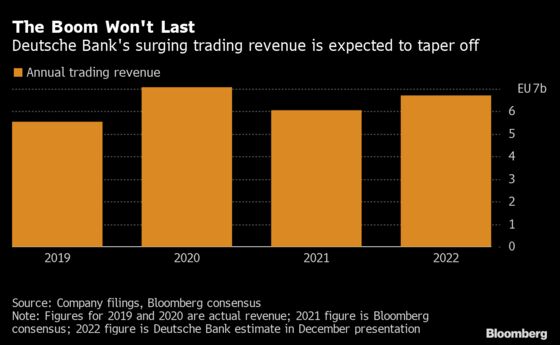 Deutsche Bank now also expects to make higher contributions to Europe's bank resolution fund this year after saying in December that it expects payments to fall, Campelli said. That will lead to levies of about 600 million euros ($716 million) this year, Campelli said, compared with a forecast of about 300 million euros in December. He reaffirmed the bank's 2022 cost target of 16.7 billion euros, despite the unexpected additional expenses.
The insolvency of Greensill Bank, a small German lender linked to the bankrupt supply chain finance company Greensill Capital, will likely burden Deutsche Bank with unexpected costs too. The German deposit insurance fund has begun to compensate depositors, which will lead to higher contributions for fund members.
There won't be an "immediate" hit to Deutsche Bank from higher contributions to the deposit insurance fund though payments will increase in the medium term, Campelli said at the event. It's too early to say how high those payments will turn out to be, he said.
The money made at Deutsche Bank's securities unit contrasts with flagging business at the divisions focused on lending, which are bracing for a surge in defaults and continued headwinds from negative interest rates. The lender has sharpened its cost-cutting goals to offset the expected impact on profitability and it has doubled down on an effort to charge clients who deposit large amounts of money in checking accounts.