Deutsche Bank Taps JPMorgan's Pearce for European High-Yield
(Bloomberg) -- Deutsche Bank AG has hired JPMorgan Chase & Co. veteran Sebastian Pearce as head of European high-yield trading, as it boosts staffing in that unit amid a boom in activity.
Pearce will join Deutsche Bank in June, two months after Luis De Diego Yenes arrives as a strategist on the same desk from Citigroup Inc., a person familiar with the matter said.
The German lender has been beefing up its credit business as it seeks to benefit from a global trading boom that has led to soaring revenue in its securities unit. The lender's new investment banking head, Fabrizio Campelli, recently said that revenue has surged 20% year to date in the division, highlighting credit trading as one area of particular strength.
The new hires for the high-yield desk continues a slew of arrivals including Mark DeSplinter, Matt Moore and Igor Pavlov in New York and Dan McNally, Vidur Goel and Akash Waghela in London, the person said.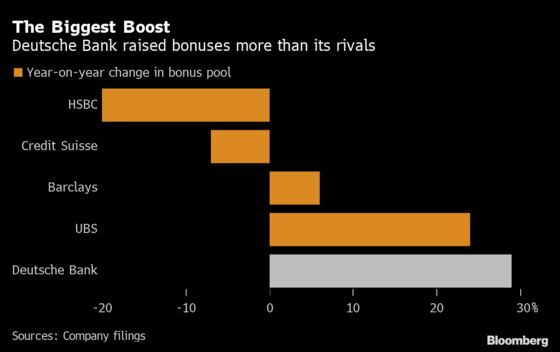 As part of the effort to attract new talent, Chief Executive Officer Christian Sewing recently boosted the bonus pool in the investment bank by 46% even though headcount in the division has dropped. Variable compensation for the bank as a whole rose 29%.
Pearce, a high-yield and distressed bond and credit default swaps trader, had been at JPMorgan for nearly 15 years, according to his LinkedIn profile.
The bank is particularly interested in cleared single name credit-default swaps, a market it re-entered in Europe in late 2019 that has driven up volumes and client engagement, the person said.
The instruments, used by investors such to insure debt or bet on creditworthiness, are paying out at the fastest pace since 2009. Compensation is also higher, as national lockdowns and social distancing measures push more companies into bankruptcy or restructuring. Still, the total size of the market is less than a third of its $34 trillion peak in 2008.
Representatives for Deutsche Bank, JPMorgan and Citigroup declined to comment. Pearce and Yenes couldn't immediately be reached.