Deutsche Bank Finds a Good Reason to Downplay a U.S. Bond Alarm
(Bloomberg) -- Investors looking for a good reason to ignore an economic warning in the bond market will be able to find it in the flush savings accounts of American households, according to dollar bulls at Deutsche Bank AG.
Inflation-adjusted yields known as real rates remain negative, stoking worry over trend output. It's a mystery to anyone watching gangbuster corporate earnings, stock markets at records, and an American economy poised for the fastest annual expansion since the mid-1980s.
But a benign explanation looks to be at work, per Deutsche currency strategist George Saravelos citing the work of his colleague Robin Winkler. High excess savings, a hangover from pandemic lockdowns, has been flooding into funds of all stripes to cap real yields and loosen financial conditions.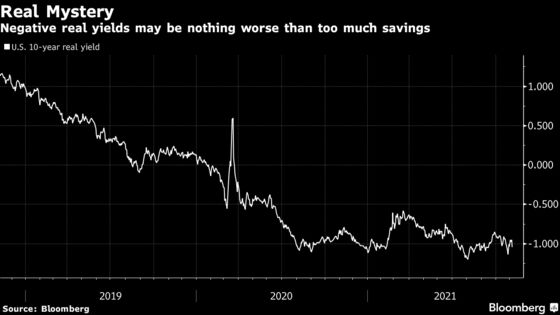 "That the dollar has been strengthening over the last six months provides some evidence that excess saving is dominating as a driver of low real rates," Saravelos wrote in a note. "If financial conditions are staying easy for 'good' reasons, the more the dollar is supported because the more the Fed has to hike."
Historically speaking, a decline in real rates that is driven by lower trend growth is bad for the dollar. But a decline in real yields caused by excess savings is bullish for the U.S. currency, according to Deutsche. The latter dynamic seems to be at play right now. 
Since the onset of the pandemic, households have amassed excess savings of at least $5.6 trillion, according to Moody's Analytics. The U.S. alone represents $2.6 trillion. 
The greenback was up against major peers Thursday, driving the euro back towards year-to-date lows of $1.15. That's close to the bank's forecast for the currency pair to end the year at $1.16.
But given the complexity of modern markets, no one is pretending figuring out bond-market signals is simple.
"The jury on the pandemic impact on real rates is still out, and the debate is unlikely to be resolved any time soon," Winkler wrote in the report. "Neither is it obvious where real rates will end up once the dust settles, nor what sort of regime will push it there."