DeSantis Proposes $1 Billion of Gas Tax Relief in Florida
(Bloomberg) -- Florida Governor Ron DeSantis is asking state lawmakers to "zero out" the state gas tax. 
The Republican governor wants the legislature to take up a plan that would reduce the state gas tax in Florida by more than 25 cents a gallon, costing the state about $1 billion of revenue. DeSantis, who laid out the proposal during a press conference in Daytona Beach on Monday, framed the policy as a way to push back against inflation.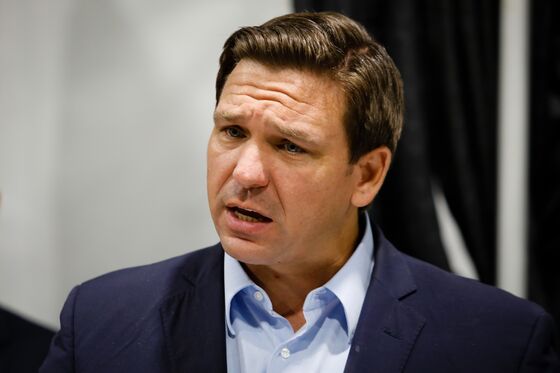 "We have to fight back against this inflation," said DeSantis, who blamed Washington for the high prices facing consumers. "Obviously I would like them to reverse course on some of these policies that are causing it, but I'm not holding my breath on that."
His administration has spoken with gas station owners in Florida including Buc-ee's, a Texas-based chain of gas-station convenience stores, and Wawa, and they've committed to lowering their gas prices if the policy is instituted, according to DeSantis.
He said the state is in "great financial shape" and its surpluses and reserves allow the financial flexibility to lower that tax rate and reduce state revenue. Florida is AAA-rated by S&P Global Ratings, a designation that was affirmed by the company on Nov. 10. 
"With 2022 in sight, Florida's economic outlook continues to surprise to the upside from our initial expectations following the onset of the pandemic more than a year ago," Oscar Padilla, S&P's primary credit analyst for the state, said in the report. "With ample reserves and support from extraordinary federal aid, the state managed through peak recessionary winds and is well positioned, in our view, to continue to benefit from the economic recovery seen across the country."
Despite the $1 billion of lost revenue from nixing the gas tax, the state would fully fund road work needs. "We probably have never had such strong reserves in the history of the state," DeSantis said.
The Democratic candidates for governor have been urging relief on gas prices. After the governor's announcement on Monday, U.S. Representative Charlie Crist, a former Republican governor who switched parties and is one of DeSantis's opponents, said the timeline for the relief wouldn't come soon enough.
"Governor DeSantis is a day late and a dollar short," Crist said in a Twitter post, as lawmakers won't be back in session until January. "As a result, in the best case Floridians will be waiting months for any reduction in gas taxes."