ECB Takes Next Tapering Step With Credit Markets in Rude Health
(Bloomberg) -- The European Central Bank has taken another step toward the final wind-down of its 2.5 trillion-euro ($2.9 trillion) asset purchase program. Credit markets barely flickered, with another rush of bonds set to price on Wednesday.
The bank only bid for 10 percent of a Deutsche Kreditbank AG covered bond sold on Tuesday, after previously getting about 20 percent of all euro covered deals since March, according to analysts at ABN Amro Group NV. The 500 million-euro note will likely be the first covered deal to settle in October, when the ECB will halve its purchase program before ending fresh stimulus in December.
The ECB has "adjusted the standard primary market bid size" for covered bonds, according to an emailed statement from a spokesman. This was done to "keep a balance between the primary and secondary market presence in light of the lower APP purchase pace in the fourth quarter of 2018," he said.
Credit markets have broadly weathered the looming end of quantitative easing, helped by the ECB signposting its plans, pledging to reinvest maturing assets and promising to hold down borrowing costs well into next year. It has also cooled asset purchases including slowing the 250 billion euro-plus covered bond program and adding less than 1 billion euros of corporate notes in each of the past three weeks in spite of an issuance surge.
The ECB has done a "good job so far" in managing the stimulus wind-down, said Jeroen van den Broek, head of debt strategy and research at ING Groep NV. Still, "the market is waiting for detail on refinancings and life after QE," he said.
Central banks and official institutions acquired just 12 percent of the Deutsche Kreditbank covered bond, according to a person familiar with the matter, who is not authorized to speak publicly and asked not to be identified. By comparison, central banks bought 30 percent of a covered bond issued by Hypo Vorarlberg Bank AG in July.
"Despite this new practice coming in as a surprise, the scenario fits our view that a less active ECB will mainly affect the primary market activity," Cooperatieve Rabobank UA analysts Ruben Van Leeuwen and Cas Bonsema wrote in a note. "Price discovery is increasingly taking place in the new issue market, and with less distortions, we expect that the 'real' value of covered bonds will gradually show up here."
ABN Amro also said covered-bond spreads will likely only widen "modestly" as the ECB pulls back from the market.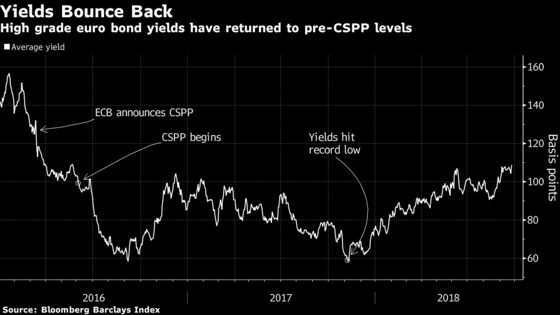 In the corporate market, euro investment-grade borrowing costs, spreads and credit-default swaps have all widened this year as investors and issuers prepare for the ECB to cut overall asset purchases to 15 billion euros a month in October. The selloff has largely reversed a market squeeze that sent yields to record lows last year.
"The price of corporate credit no longer reflects quantitative easing," said Piers Ronan, head of financial institutions group debt syndicate at Credit Suisse Group AG. "The market has basically repriced even though the program is in its final stages."