Department Stores Must Do More Than Just Survive
(Bloomberg Opinion) -- If you were looking for a clear signal about how department stores are faring in the current retail environment, you didn't get it from their latest batch of earnings results.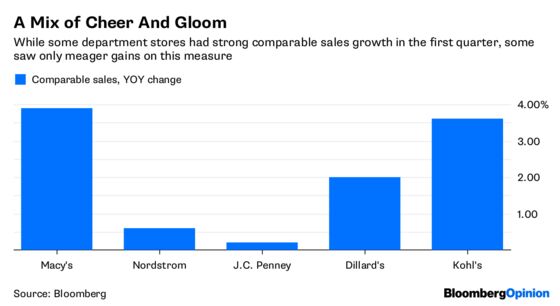 But if you boil all the latest numbers and executive commentary down, they do offer at least one overarching message, and it's this: Amid major turbulence in retail, department stores are figuring out how to survive. They just haven't discovered the formula yet that will allow them to truly thrive.
Take Kohl's. It's good that the retailer was able to strengthen its gross margin and deliver a third consecutive increase in comparable sales. But the chain was up against rather easy comparisons, as its first quarters in the previous two fiscal years were quite gloomy, with a decrease of 2.7 percent on this measure in fiscal 2017 and a decrease of 3.9 percent in fiscal 2016.  And, like Macy's, it benefited meaningfully in the quarter from the timing of a major "friends and family" sale.
To get confident about the long-term future for Kohl's, we need to see more. In particular, I'm watching its partnership with Amazon.com Inc., in which it is accepting returns of some Amazon purchases in its stores. That could be a potentially powerful traffic driver if rolled out nationwide.
Macy's, meanwhile, has given itself some juice in part by adding off-price areas known as Backstage to its department stores. they are clearly helping, boosting sales at locations where they have been added. But the chain has yet to demonstrate that Backstage can bring in new customers, rather than just being a magnet for higher spending by Macy's loyalists. We should get a clearer idea of its powers of attraction when Macy's puts more marketing muscle behind it, but count me as a skeptic.
And then there's J.C. Penney. Ellison has helped it get on steadier footing with ultra-pragmatic moves such as going after the crumbs of beleaguered Sears Holdings Corp. by expanding J.C. Penney's appliance business. That scrappy tactic, though, doesn't protect J.C. Penney from its biggest problem: It is still struggling mightily to sell women's apparel, the largest segment of its business. The chain doesn't deserve a vote of confidence from investors unless it can show itself to be a more serious contender there.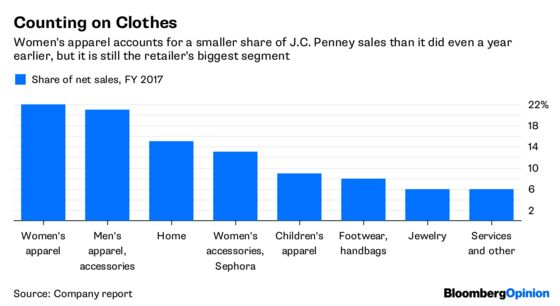 Right now, department stores are hanging in there, and that's better than getting pummeled. But it still feels like they are doing a commendable job of getting water out of a sinking boat, as opposed to rowing the boat forward.