Democrats Clash With Nielsen Over 'Cages' for Undocumented Kids
(Bloomberg) -- House Democrats repeatedly clashed with Homeland Security Secretary Kirstjen Nielsen over whether detention facilities for migrant children separated from their families at the U.S.-Mexico border are akin to cages.
Representative Bonnie Watson Coleman of New Jersey asked Nielsen at a House Homeland Security Committee hearing on Wednesday what made the detention centers for children different from "cages you'd put your dogs in."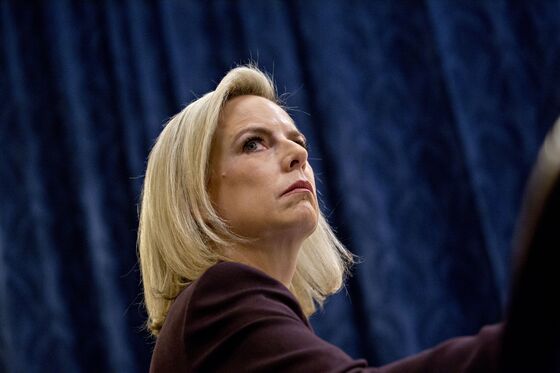 Nielsen said they were "larger," had "facilities" and provide "room to sit, to stand, to lay down."
Committee Chairman Bennie Thompson told Nielsen that he wanted her to "admit that the cages exist" and cautioned her to not mislead the committee.
The exchanges over the facilities were part of a line of questioning pursued by Democrats over a "zero-tolerance" immigration policy announced by Jeff Sessions when he was attorney general that included separating migrant children from their undocumented parents.
Democrats who took control of Congress in January have been stepping up oversight of Trump administration immigration policies with hearings and document requests. Last month, the House Oversight Committee voted to authorize subpoenas requiring President Donald Trump's administration to turn over records on migrant children and parents who were separated at the U.S.-Mexico border.