Icahn Goes for a Better Ending in Latest Dell Bout
(Bloomberg Opinion) -- Carl Icahn is angling to take away one of Michael Dell's key bargaining chips.
On Monday, the activist investor became at least the second holder to publicly speak out against Dell Technologies Inc.'s plan to return to public markets by buying the DVMT tracking stock it created to fund its takeover of EMC Corp. in 2016. P. Schoenfeld Asset Management had filed a presentation Oct. 5 opposing the deal on the grounds that Dell's purported $109 bid undervalues DVMT's contribution to the combined company and represents too great a discount to the value of VMware Inc., the virtualization-software company that DVMT is meant to track. You can read my views on Dell's flawed buyout math and process here, here and here.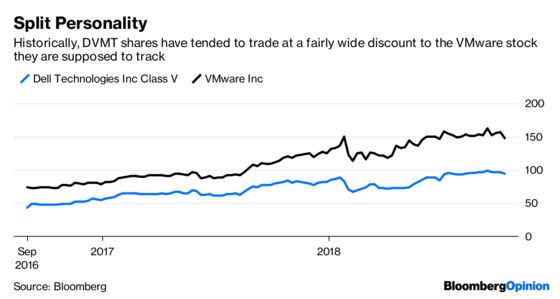 Icahn made many of the same arguments in a letter to DVMT holders, but with some important twists. First, he alleges a deliberate campaign of fear-mongering on the part of Dell and Silver Lake, which helped take the computer giant private in 2013 after a contentious bout with Icahn over the price. I'll come back to that later. Second, Icahn isn't just going to vote against the deal; he's also contemplating a partial bid for DVMT stock in the event of a raised offer that's more modest that what he believes is warranted. This would provide liquidity for those holders that need to exit while allowing those who want to fight to do so.
This is potentially a game changer for the resistance effort, such as it is. Recall that Icahn bowed out of the fight over Dell's privatization after some former critics including Franklin Mutual Advisors were swayed by a boost to Michael Dell and Silver Lake's offer. Icahn wasn't too happy about it at the time, and this proposal could be read as a means to guard against a similar squeeze-out this time around. 

One thing of note, there's a fair amount of overlap between the shareholder register at DVMT and that of NXP Semiconductors NV. The chipmaker was a favorite of special-situation and merger-arbitrage specialists, and many of those funds got burned when Chinese regulators' foot-dragging forced Qualcomm Inc. to walk away from its $44 billion purchase of NXP. Some of them are just sort of stuck in NXP for the time being, waiting to see if the shares bounce back up so they can salvage their investment. And with the end of the year approaching, some of those funds may prefer to lock up a slightly higher offer from Dell and notch an easy win that can offset soured bets like NXP.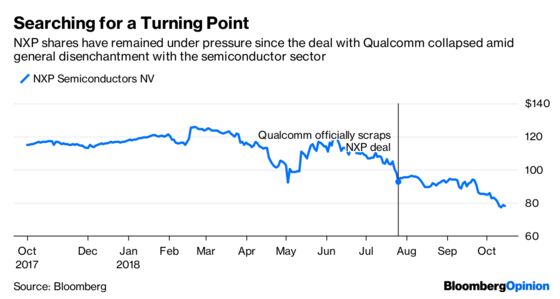 Shareholders grumbling about the terms of Dell's offer have acknowledged to me that the risk-arbitrage community isn't necessarily a reliable ally here and some funds may be willing to cash out at lower levels than what mathematically seems fair. Should Icahn proceed with this partial transaction, Dell and Silver Lake would be left dealing mostly with shareholders whose pushback to the transaction runs much deeper than meeting annual-return goals. 
In the wake of Dell's most recent earnings release, I wrote that the DVMT transaction isn't just a valuation issue, but rather a bigger corporate governance question that could have implications for controlling-shareholder transactions. That may be an aggrandized view. Plenty of investors I've talked to just feel cheated by Michael Dell and want to draw a line somewhere. As ISS diplomatically put it in a research report earlier this month, "lingering perceptions of the 2013 take-private, along with the tracking stock's relative performance since its creation two years ago, are now coloring investors' views of Dell's current proposal to return to the public markets."
And that brings me back to Icahn's accusations of fear-mongering on the part of Michael Dell and Silver Lake. The gist is that Icahn believes Dell and Silver Lake always planned to buy out the tracking stock at a discount and have threatened a merger with VMware and a more traditional IPO (or at least issued 8-K filings describing these as possibilities) as a means of maintaining that discount. I don't know if that's true. It seems equally plausible that Dell evaluated each and every possible transaction that would return it to the public market and was incentivized to do so because Silver Lake has a right to force Dell to pursue an IPO beginning Oct. 29 under the terms of the original take-private agreement.  
But anyway, Icahn in his letter twice compares Dell and Silver Lake to Machiavelli and there is a nice little soliloquy on war and peace. My point is, reading it, you get the sense this is personal for Icahn. Investors were sold a tracking stock that EMC's advisers anticipated would trade at no more than a 10 percent discount to VMware and that former EMC CEO Joe Tucci said would be the "best trading tracking stock ever" — and Icahn will be damned if Dell and Silver Lake don't follow through on that. More power to him, but that's a whole lot of trouble coming Dell and Silver Lake's way. 
This column does not necessarily reflect the opinion of the editorial board or Bloomberg LP and its owners.
Brooke Sutherland is a Bloomberg Opinion columnist covering deals and industrial companies. She previously wrote an M&A column for Bloomberg News.