Dell's Deal Bump Should Be Enough to Make Everyone Happy
(Bloomberg Opinion) -- Dell Technologies Inc.'s raised bid for its tracking-stock stepchild is so complicated it just might work.
The technology giant is now offering $120 per share, or $23.9 billion, to buy out holders of the DVMT stock that was created to fund Dell's 2016 buyout of EMC Corp. and was meant to reflect the value of that company's stake in VMware Inc. That's up from a previous offer of $109 per share that investors including Carl Icahn snubbed as too low. It's an about-face for Dell, which insisted for months its offer was fair, bizarrely betting that rosier forecasts and the threat of a straight IPO would do its negotiating work for it. But merging with publicly traded DVMT is and always was Dell's best option for improving its twisted capital structure and returning to public markets.
DVMT holders' biggest complaints about Dell's previous bid were a) that it valued the tracking stock at a wide discount to the market price of VMware and b) that the $109 headline valuation was derived from an aggrandized view of Dell's self-worth. As I've written, to get to a price of $109 on its initial bid, Dell assumed its class C shares were worth $79.77 apiece. That was significantly higher than estimates Dell had recently used to calculate stock-based compensation for employees. DVMT's stock price in the months after the deal's announcement at times indicated investors thought Dell's core equity was worth just $1 billion, compared to the company's estimate of $17.5 billion.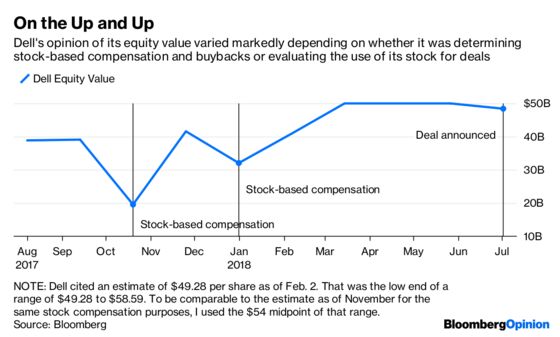 Dell is addressing this pushback in two ways. The new bid includes $14 billion of cash, reflecting the $9 billion VMware had agreed to contribute to the old offer and an additional $5 billion that Dell will raise by adding to its already bloated balance sheet. That will boost the cash portion to as much as 59 percent of the new DVMT offer, compared with about 42 percent previously. The benefit of cash is everyone agrees on what it's worth. There's still a sizable stock component to deal with, though. On this point, Dell is seemingly willing to agree to disagree with DVMT shareholders on the valuation math and to offer DVMT shareholders protection in case it's being too optimistic.  
DVMT holders are guaranteed an exchange ratio of 1.5043 Class C shares, which works out to the headline value of $120 per share if you believe Dell's $79.77 valuation for its business. But if DVMT shareholders don't believe that and the share price implies a lesser value for Dell's self-worth, then the exchange ratio will be adjusted upward to reflect market realities and give DVMT holders bigger ownership of the combined company. The vote for this deal remains Dec. 11 and the trading window will be based around that deadline. This flexibility is capped at an exchange ratio of 1.8130 shares, which still implies a discount to VMware. But this is nevertheless a concession on Dell's part that validates one of DVMT holders' core arguments. As complicated as this is, it's also a rather elegant solution to fitting a square peg in a round hole.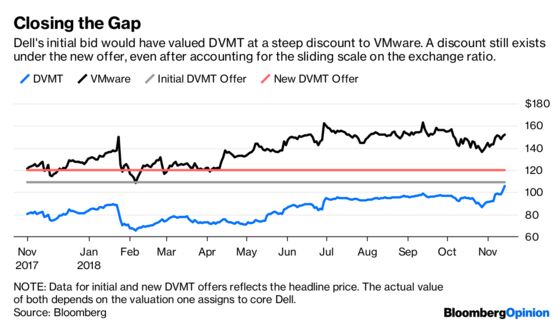 The biggest outstanding concern I have is what this will do to Dell's balance sheet. Before the final terms were released, Bloomberg Intelligence analyst Robert Schiffman said the certainty of a DVMT transaction and the promise of a simplified capital structure will likely offset the potential leverage increase from a boosted cash payout. Dell's business has been doing better lately, with the company reporting an 18 percent jump in sales in the most recent quarter. But that's been driven in part by a strong IT spending cycle as companies reinvest tax savings. It's unclear how sustainable that is if there's an economic downturn, which some experts are increasingly warning could be nigh.
In hindsight, it seems like fate that Dell's complicated tracking stock structure is being collapsed via an equally complicated equity collar mechanism. Elliott Management Corp., Dodge & Cox, Canyon Partners and Mason Capital, which collectively own about 17 percent of DVMT shares, have all thrown their weight behind this proposal. We haven't heard from Icahn yet on the final terms, but on Monday as details began to trickle out, he took a victory lap on the prospect of a raised price, while demanding the right for DVMT holders to elect at least three board members for the combined company. Dell is offering DVMT holders a single director, so it's possible Icahn and others could demand more governance concessions. 
But this boosted offer should be enough to make everyone happy. Until the next complicated Dell deal comes around, that is.
This column does not necessarily reflect the opinion of the editorial board or Bloomberg LP and its owners.
Brooke Sutherland is a Bloomberg Opinion columnist covering deals and industrial companies. She previously wrote an M&A column for Bloomberg News.