Dell's Good News Won't Make a Deal Go Down Smoother
(Bloomberg Opinion) -- Dell Technologies Inc.'s latest earnings are unlikely to diffuse a brewing shareholder mutiny. 
The technology giant is attempting to return to public markets via a takeover of the DVMT tracking stock it created to finance its 2016 buyout of data-storage company EMC Corp. Dell was hoping another round of strong earnings would convince DVMT holders that the disputed valuation work it's used to justify the current stock-and-cash bid was valid. Dell's second-quarter results were indeed good and included an 18 percent jump in sales as the company increased its share of the storage market and benefited from a surge in corporate technology investments. But that wasn't enough to quell DVMT holders' skepticism.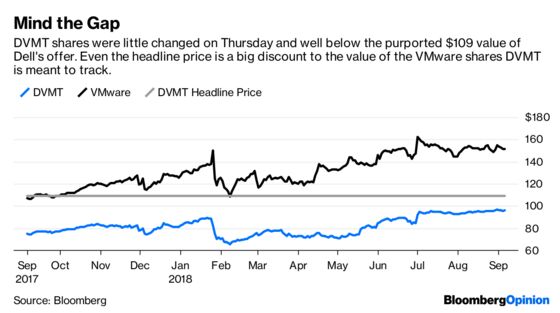 DVMT was little changed and traded for about $96 on Thursday, a sign that investors still don't think Dell's bid is worth anywhere near the $109 it says it is. The indifference to this latest batch of numbers isn't surprising. Yes, Dell used the second-quarter results to again raise its guidance for the full year. But Dell already disclosed projections for fiscal 2022 and fiscal 2023 in a recent proxy statement, and there's no public update to those estimates. At best, the boosted fiscal 2019 outlook may make investors more confident in those optimistic estimates. But DVMT investors' primary complaints still hold.
Some shareholders are firm that Dell needs to do more to close the gap between the DVMT valuation and the share price of VMware, which Dell acquired a majority stake in via the EMC takeover, and which DVMT shares are supposed to track. The current 35-percent plus discount on DVMT shares likely isn't what they were expecting when they invested in the stock. This is made all the more awkward by the fact that Evercore — which now represents the special committee Dell set up to act in the interest of DVMT holders — previously advised the EMC board that a much smaller 0 percent to 10 percent discount to VMware's unaffected 2015 price was an "appropriate illustrative" range.
Meanwhile, DVMT's current share price suggests that investors value Dell's core equity — what's left over after backing out stakes in public companies such as VMware — at roughly $3 billion. That's higher than a few months ago, but well below the $17.5 billion Dell cites in its deal presentation. If Dell's core valuation is lower, then DVMT holders — whose shares are meant to reflect the value of the higher-flying VMware — feel they deserve a more attractive exchange ratio that will give them a bigger chunk of the combined company.
But valuation is only one part of shareholders' frustration in this situation. For some investors, there is a deeper corporate governance issue and they are wary of allowing Dell to set a bad example. The discount to the VMware stock price is one sticking point here. But there are also questions about the rigor of the process conducted by the DVMT special committee that negotiated with Dell. As I noted last month after reading the proxy statement, it was striking how much harder VMware's special committee pushed back against a potential transaction, to the point that the software maker will remain a separate publicly traded entity.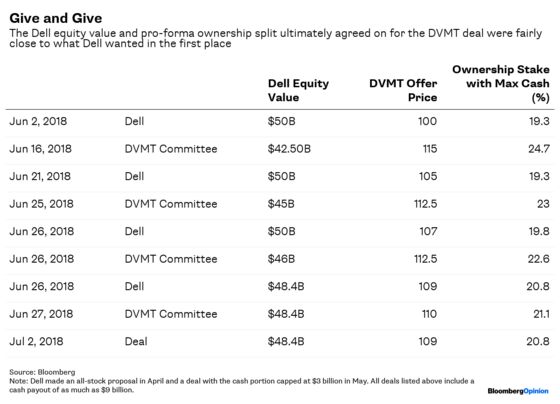 Meanwhile, my Bloomberg News colleagues did extensive reporting on Discern Analytics, the obscure consulting firm the DVMT special committee brought in to help it assess Dell's financial forecasts. I'm not going to get into that choice too deeply here, but hiring a former Lehman Brothers analyst who largely works by himself out of his house rather than McKinsey & Co. or Boston Consulting Group Inc. is at odds with the size, complexity and inevitable scrutiny this deal was bound to draw. It's a decision that merits more explanation.
Attention will now shift to Dell's investor day, which is expected to happen in late September. But at a certain point, the company can't keep kicking the can down the road hoping that more information will bring investors over to its side. To get this done, Dell likely needs to raise its bid.
This column does not necessarily reflect the opinion of the editorial board or Bloomberg LP and its owners.
Brooke Sutherland is a Bloomberg Opinion columnist covering deals and industrial companies. She previously wrote an M&A column for Bloomberg News.