Deliveroo CEO Pins Weak IPO on Volatility, Archegos Fallout
(Bloomberg) -- Deliveroo Plc Chief Executive Officer Will Shu said that market gyrations, a rotation away from technology stocks and the blowup of investment firm Archegos Capital Management contributed to the firm's disappointing debut on the London Stock Exchange.
"We went public in a really volatile environment, and there's some things you just can't control at the end of the day," Shu said in an interview after the company reported its first-quarter financial results on Thursday. "The last two weeks also show we have a big job ahead of us to tell our story."
Shu also said that he's "confident in the sustainability" of the company's freelance worker model, telling analysts on a call that it's held up to legal scrutiny so far and reflects what riders want.
Deliveroo's shares fell 1.6% at 11:13 a.m. London time, and are down more than 30% since its initial public offering last month.
The company reported a 114% gain in orders in the first quarter from a year earlier in a statement on Thursday. It maintained its guidance for a slowdown in transaction volumes for the full year and gross profit margins of 7.5% to 8%, and said it was being prudent "pending further information on consumer behavior post-Covid," in a statement.
"This is our fourth consecutive quarter of accelerating growth, but we are mindful of the uncertain impact of the lifting of COVID-19 restrictions," Shu said in the statement. "So while we are confident that our value proposition will continue to attract consumers, restaurants, grocers and riders throughout 2021, we are taking a prudent approach to our full year guidance."
In the interview, Shu said that in a couple markets where coronavirus restrictions have been lifted the company has seen continued growth.
The value of transactions placed on the app rose 130% to 1.65 billion pounds ($2.3 billion) in the first quarter, the company said. Deliveroo expects that growth to slow to 30% to 40% for the full year as consumers exit pandemic lockdowns.
Deliveroo was among the winners of the Covid-19 lockdowns, with transactions on the platform growing 64% in 2020, marking a turnaround from before the outbreak when the company warned it risked collapse.
Orders in the U.K. and Ireland grew 121% in the quarter, outpacing international markets as the company acquired new customers in its biggest region.
Earlier this week, top competitor Just Eat Takeaway.com NV reported a 79% rise in first-quarter orders and said it was looking into the feasibility of grocery delivery. The U.K. market was its strongest with a 96% increase in total orders.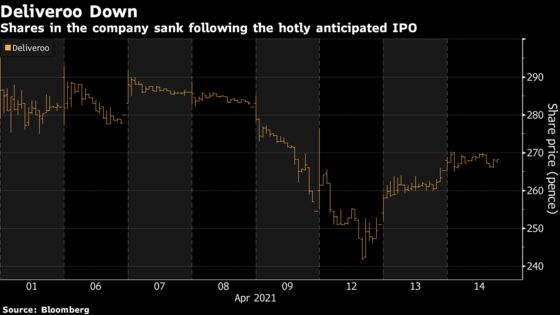 Shu, a former banker, had a stake worth at least 449 million pounds when the company went public, but found a colder reception in London than he may have expected.
The company is planning to expand into 100 new localities across the U.K. this year and reach 4 million more customers, and recently expanded its partnership with supermarket J Sainsbury Plc.
Deliveroo's Fat Investment May Erode More Cash on Just Eat Fight