Boris Johnson Tells Racist Football Trolls to 'Crawl Back Under' Their Rocks
(Bloomberg) -- Britain's Prince William and Prime Minister Boris Johnson led a chorus of condemnation against online racism aimed at some of England's Black soccer players over the national team's defeat in Sunday's European Championship final.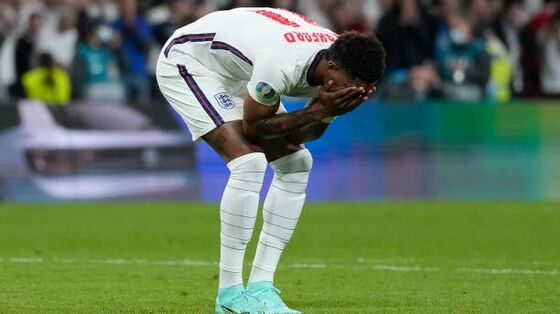 The online abuse erupted after Marcus Rashford, Jadon Sancho and Bukayo Saka each failed to score in last night's decisive penalty shoot-out against Italy at Wembley in north London. It meant England lost in what was its biggest competitive game in 55 years.
Johnson addressed it in a news conference on Monday: "Those who directed racist abuse at some of the players, I say shame on you and I hope you crawl back under the rock from which you emerged."
"I am sickened by the racist abuse aimed at England players after last night's match," Prince William, who is president of the English Football Association, said in a tweet on Monday. "It is totally unacceptable that players have to endure this abhorrent behaviour."
The episode follows weeks of controversy over whether the England players should have been supported in "taking the knee" before games as their response to issues of discrimination and racism.
Johnson, when asked whether he would now take the knee, avoided answering the question. Many in his party have opposed the gesture, with some arguing it's affiliated to a communist movement.
"I think people should feel free to show respect and how much they condemn racism" Johnson said, adding he was at the match at Wembley and that the whole crowd was respectful. "I didn't hear a single boo," he said.
The gesture of taking the knee has been a feature of club and country matches this season in England but, since crowd restrictions have eased, it has been met with booing from some supporters and condemned by politicians such as Lee Anderson, a member of parliament in Johnson's Conservative Party. Anderson had said he would boycott England games if the custom continued.
Soccer legend Gary Neville said on Sky News that he thought Johnson should take a tougher stance on racism.
And he's not alone. Johnson's government is being called into question over its attitude and accused of hypocrisy, including by some in England's own soccer team.
Rashford, who has headed a successful campaign to restore free school meals to children of financially deprived families, said on Monday evening in a tweet: "I can take critique of my performance all day long, my penalty was not good enough, it should have gone in but I will never apologise for who I am and where I came from."
Mason Mount, the White Chelsea youngster said in a tweet: "It's devastating to see some of the racist abuse directed at my team-mates who were brave enough to step up."
In a statement on its website, the Football Association described the online abuse as "disgusting."
"We will continue to do everything we can do to stamp discrimination out of the game, but we implore government to act quickly and bring in the appropriate legislation so this abuse has real-life consequences."
Meanwhile, Savills Plc, the London-based estate agent, said it's investigating whether one of its employees had been involved in any of the racist tweets posted on Twitter. "Savills abhors and has zero tolerance to any form of racism," it said on Twitter.
Twitter Inc. said it had to delete some 1,000 racist tweets following Sunday's game.