Decisive U.K. Election Splits HSBC Forecasters on Market Outlook
An election result bringing clarity to U.K. politics and markets seems to have confounded strategists at some banks.
The biggest surge in the pound since 2017 is only the start of a rally, given reduced political uncertainty and an improved economic outlook, according to currency strategists at London-based HSBC Holdings Plc. Yet its rate analysts sound markedly downbeat, predicting the Bank of England will have to lower interest rates by May as the economy slows.
The contrast in tone highlights a broader market rift on what the next stage in the Brexit saga holds for U.K. assets. The pound has been a barometer of Brexit risk, with forecasts following a thumping election win for the Conservatives ranging from HSBC's call for an 8% gain to $1.45 to MUFG's prediction for only modest moves beyond $1.35, posing a challenge for investors.
"Following the rally in the pound seen in the hours since the result, we are not inclined to take a strong view on sterling in either direction for the time being," said Mark Dowding, a portfolio manager at BlueBay Asset Management in London, which exited a long position on the currency in October after successfully betting against it for three years before that.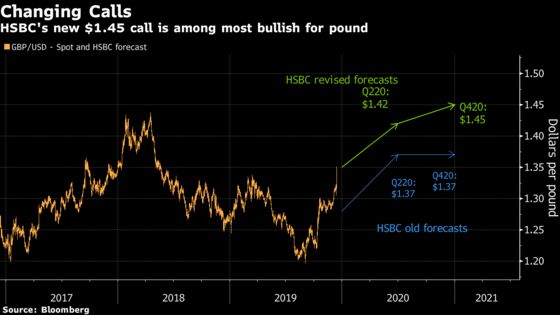 Boris Johnson's Conservative Party now has the mandate to take Britain out of the European Union next month, but still needs to agree a future trade relationship with the bloc. For HSBC's currency strategists Dominic Bunning and David Bloom, Johnson's plans to boost spending should give the economy a shot in the arm and help the pound.
"As the FX market now focuses on the economic data, any marginal and relative improvement for the U.K. economy is likely to be seen in a particularly positive light for sterling in a world of slowing growth and lower-for longer-rates," the analysts said in a note dated Dec. 12. "As such we see plenty of scope for sterling to strengthen in the months ahead."
That didn't chime with the view of its rate team, which forecasts haven U.K. government bonds will rally to take 10-year yields down to 0.40% by end-2020.
"Looking past the noise, weak incoming economic data and below-target inflation support a cut in bank rate in May," Daniela Russell, the head of HSBC's U.K. rates strategy, wrote in a separate client note Friday. "Brexit uncertainty is likely to persist, while we think other factors have also been responsible for the slowdown in growth momentum. In our view, fiscal easing will not be a game changer."