Debt Ceiling Uncertainty Is Creating a Wedge in T-Bill Auctions
(Bloomberg) -- The U.S. Treasury may be months away from exhausting its borrowing authority, but a lack of consensus among investors about the specific timeline is already appearing in auctions for short-term paper.
The Treasury on Thursday sold $30 billion of four-week bills at 0.035% and the same amount of eight-week bills at 0.06%. That compares with last week's sales, when the gap between the two stopout yields was a mere 0.015%. Bills maturing at the end of October and beginning of November are yielding more than the securities surrounding those dates.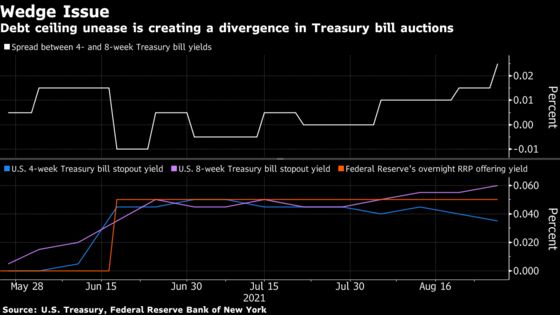 Debt-ceiling dysfunction will further exacerbate distortions in the front end as investors seek to avoid securities susceptible to potential default at a time when the sector is bogged down by an abundance of cash chasing just a few assets. The eight-week security matures Oct. 26, which is around the time strategists are estimating the government will exhaust its borrowing authority, though the exact timing is less clear.
"Without any real confident consensus in the market as to when the X-date actually may be, the bills that are trading weak due to debt-ceiling concerns are only modestly higher than the 5bp offering rate on the ON RRP," Jefferies economist Thomas Simons wrote in a note to clients on Thursday. "That may change as the debt ceiling crunch drags on, but we are still a couple weeks away from that at least." 
Short-term funding markets are already rankled by the Federal Reserve's long-standing asset purchases and drawdowns of the Treasury's cash account, which is pushing reserves into the system. As a result, liquidity has been swelling, especially as the Treasury cuts supply to create more borrowing room under the debt ceiling.